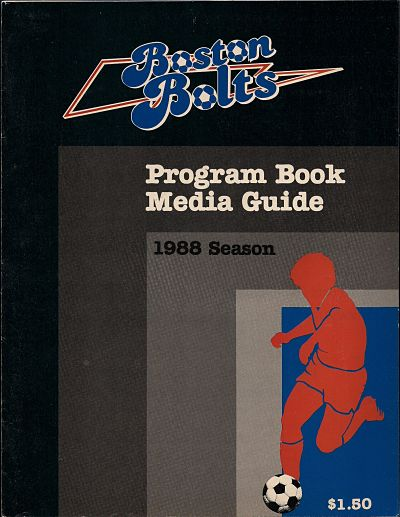 Boston Bolts vs. New Jersey Eagles
August 6, 1988
Nickerson Field
Attendance:
American Soccer League Programs
24 pages + insert
The Boston Bolts played at Nickerson Field on the campus of Boston University.  The 10,000-seat stadium was a 15-minute bus ride from my home on the #57 bus, the same one that went to Fenway Park about ten minutes further down Commonwealth Avenue.  I went to a half dozen or so games, mostly during the summer of '89 when the Bolts made a serious run at the American Soccer League championship, losing at home in the final game. When I couldn't go, I could sometimes find the Bolts games on SportsChannel New England, although I usually lost interest after watching a few minutes of low level soccer on television.  Although I would later become a true fan of the sport, my primary concern at most Bolts games was the outcome of the nightly halftime raffle drawing for a team-autographed soccer ball.
This program is from the Bolts first season, and the first season of the American Soccer League.  The ASL was an effort to start a fiscally conservative pro league, with regionalized travel on the Eastern seaboard.  The ASL's eight founding franchises included Boston and Albany in the Northeast, a trio of clubs clustered around Washington, D.C., and four franchises in Florida, including revived versions of the Fort Lauderdale Strikers and Tampa Bay Rowdies of the defunct, big-budget North American Soccer League.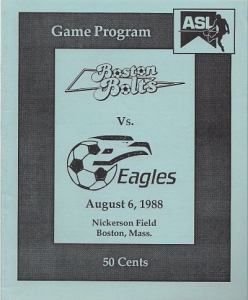 There were a handful of NASL refugees playing for peanuts in the ASL, particularly on the Florida teams.  In this August 6th, 1988 match between the Bolts and the New Jersey Eagles at Nickerson Field, the Bolts had longtime NASL/MISL vet Chris Hellenkamp and the young U.S. National Team goalkeeper Jeff Duback.  The Eagles had NASL vet Juan Carlos Michia.
But the especially compelling players on this night were the two New Jersey native rookies for the Eagles, getting their first taste of pro soccer in the summer of 1988: midfielder Tab Ramos and defender Peter Vermes.  Both would go on to represent the United States in the 1990 World Cup and enjoy long careers with the U.S. National Team.  Ramos and Vermes were also two of the early stars of Major League Soccer, which launched in 1996 and gave the United States a proper 1st Division league for the first time since the demise of the NASL in 1984.
==Links==
##