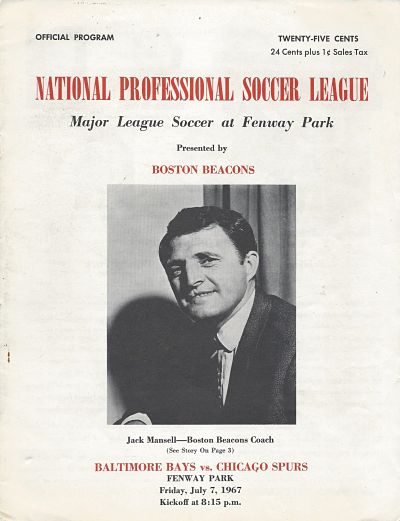 North American Soccer League (1968)
Born: 1967 – NPSL expansion franchise
Folded: October 1968
Stadium: Fenway Park (33,700)
Team Colors: Navy Blue & Gold
Owners: Richard O'Connell, Arnold "Red" Auerbach, Stephen Mugar, Sabestino Volpe
NASL Championships: None
The Boston Beacons were a One-Year Wonder that played at Fenway Park during the summer of 1968. The club was owned by a group of prominent Bostonians, including philanthropist Stephen Mugar, Celtics general manager Red Auerbach and Boston Red Sox executive vice president Dick O'Connell.
The Beacons originally formed in 1967 as a franchise in the start-up National Professional Soccer League (NPSL). But the Beacons delayed their entry into the NPSL until 1968. In the meantime, the club hosted a few 1967 NPSL regular season matches at Fenway in 1967 to generate buzz for the new league.
Another pro soccer start-up, the United Soccer Association (USA), also launched in 1967. The USA also had a Boston franchise, the Boston Shamrock Rovers, who played at the Manning Bowl in Lynn, Massachusetts. Boston Bruins owner Weston Adams and his family back the Rovers financially. Unlike the Beacons, the Rovers fielded a team and played a full season in 1967.
In December 1967, the USA and NPSL merged to form the North American Soccer League (NASL). The new league now had two Boston franchises. The Rovers fell by the wayside and the Beacons became Boston's sole pro soccer franchise when the NASL kicked off in April 1968.
The Beacons lone season in Boston was a flop. The team failed to qualify for the NASL playoffs with a 9-17-6 record. The team was a bust at the box office as well. The Beacons drew just 64,064 for 16 dates at Fenway, for a meager 4,004 average. Beacons ownership announced the club would not return in late October 1968.
Boston Beacons Memorabilia
Links
North American Soccer League Media Guides
North American Soccer League Programs
##