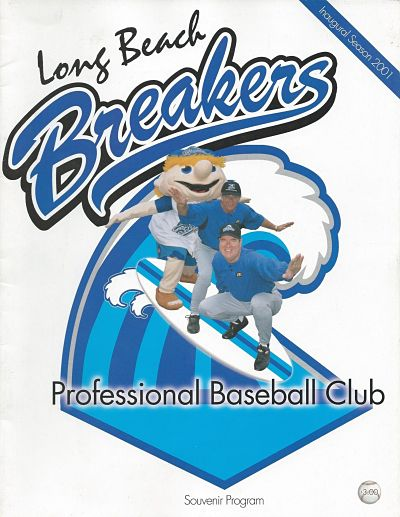 Western Baseball League (2001-2002)
Born:
Folded: Postseason 2002
Stadium: Blair Field
Team Colors: 
Owners: Chris Anderson & Ross Arbiter
Western League Champions: 2001
The Long Beach Breakers were a short-lived minor league baseball club that played for two summers in the independent Western League in 2001 and 2002. The Breakers replaced a prior Western League effort in the city, the Long Beach Riptide (1995-1996), that collapsed in an inferno of financial misdeeds several years earlier. Former Los Angeles Dodgers catcher Steve Yeager was the Breakers' field manager for both seasons of play. Yeager's son, Steve Jr., played catcher and outfield for the team.
The Breakers won the Western League title in their debut season, despite finishing the regular season with a league-worst 36-54 record. But the Western League allowed all six of its members into the playoffs.  The Breakers got hot at the right time, defeating the Chico Heat 3 games to 2 in the 2001 league championship series.
The Breakers featured a mascot named "Dude" and a dance team known as the Heartbreakers.
The Long Beach Breakers folded in late 2002 along with the rest of the Western League. Pro baseball returned to Blair Field in 2005 with the formation of another low-budget independent team, the Long Beach Armada of the Golden League.
Links
"The Breakers Need a Big Break", Nancy Wride, The Los Angeles Times, May 21, 2001
Western Baseball League Programs
##