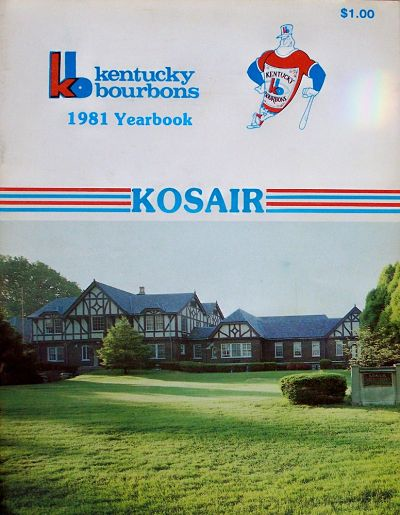 American Professional Slo-Pitch League (1977-1980)
United Professional Softball League (1981-1982)
Born: 1977 – APSPL founding franchise.
Folded: Postseaso 1982
Stadium: Bishop David Stadium
Team Colors:
Owners: Lawrence Gatti, Al Gatti, Mel Launius
APSPL Championships: None
UPSL Champions: 1981
From 1977 to 1982, men's slo-pitch softball was a professional sport in the United States. The first pro league was the American Professional Slo-Pitch League (APSPL) which launched with 12 clubs in the summer of 1977. The Louisville-based Kentucky Bourbons were one of the just three franchises to persist through all six seasons of the professional era. Their home field was Bishop David Stadium.
The Bourbons played in the APSPL from 1977 to 1980. They usually fielded one of the top clubs in the league, with the exception of 1978, when the Bourbons had their only losing season.  The Bourbons posted the best regular season record in the league in 1979 and in 1980, only to find disappointment in the playoffs.  They lost the softball "World Series" to Milwaukee Schlitz in 1979. The Pittsburgh Hardhats upset Kentucky in the playoff semi-finals in 1980.
After the 1980 season, the APSPL merged with a short-lived rival league to form the United Professional Softball League (UPSL).  The Bourbons joined the UPSL in 1981 and finally got their championship. The bested the New England Pilgrims 5 games to 3 in a best-of-nine World Series.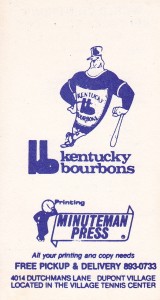 The Bourbons played one final season in 1982, but the UPSL folded after the season, ending the professional era for the sport of men's Slo-Pitch.  There has been no attempt to form a new professional league in the ensuing three decades.
The great star of the Bourbons was gargantuan catcher Bill Gatti. Gatti was a two-sport star in baseball and football at the University of Louisville from 1969 to 1971.  He became an All-American amateur softball player for Louisville-based Jiffy Club upon graduation in 1971.  In 1974, he temporarily gave up softball to try his hand at professional football for the Florida Blazers of the World Football League.  As a bruising fullback, he played regularly for the Blazers and appeared in the league's World Bowl championship game in 1974.  In 1975 Gatti played for the World Football League's San Antonio Wings, but his pro football career ended when the WFL folded in mid-season in October of that year.
Gatti played at catcher for the Bourbons for all six seasons of the club's existence from 1977 to 1982.  The prodigious slugger hit 1,937 homers in his two decade career, according to the Amateur Softball Association of America, which inducted Gatti into its Hall of Fame in 2000. Gatti was the Most Valuable Player of the APSPL in 1980 and the UPSL in 1981.  During the 1981 season, he won the league's Triple Crown. Gatti hit .662 with 38 home runs and 99 RBIs during a 60-game season.
Downloads
1979 American Professional Slo-Pitch League Franchise Sales Brochure
Links
Men's Pro Softball Media Guides
###