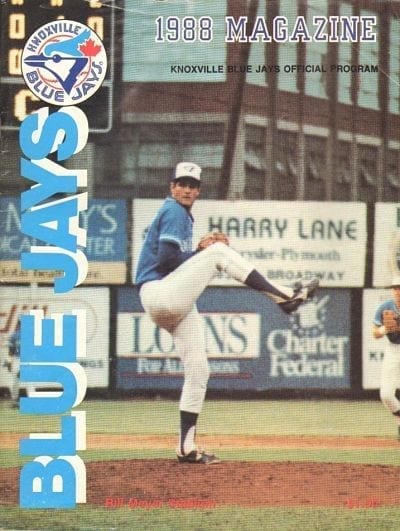 Southern League (1980-1992)
Born: 1980 – Affiliation change from Knoxville Sox
Re-Branded: 1993 (Knoxville Smokies)
Stadium: Bill Meyer Stadium
Team Colors:
Owners:
Southern League Champions: None
The Knoxville Blue Jays were the long-time Class AA farm club of the Toronto Blue Jays.
The K-Jays were never big winners on the diamond, failing to win a Southern League crown in 13 seasons play. But the team did showcase future Major League stars such as Jesse Barfield ('80 and '81), Jimmy Key ('83), Cecil Fielder ('84-'85), Fred McGriff ('84), David Wells ('84 and '86), Pat Hentgen ('90) and Jeff Kent ('91).
Attendance was always a challenge in Knoxville during the K-Jays era. A 1989 visit by the Major League Blue Jays to Knoxville for an exhibition against the K-Jays attracted fewer than 2,000 fans to Bill Meyer Stadium.
The team was re-branded following the 1992 season, taking back the historic Knoxville Smokies name. The relationship with Toronto continued until 2003, when the St. Louis Cardinals replaced the Blue Jays as Knoxville's parent club.
Knoxville Blue Jays Memorabilia
In Memoriam
K-Jays owner Neal Ridley died of cancer in September 1983. The team was sold to the Toronto Blue Jays in the wake of his death.
Links
###