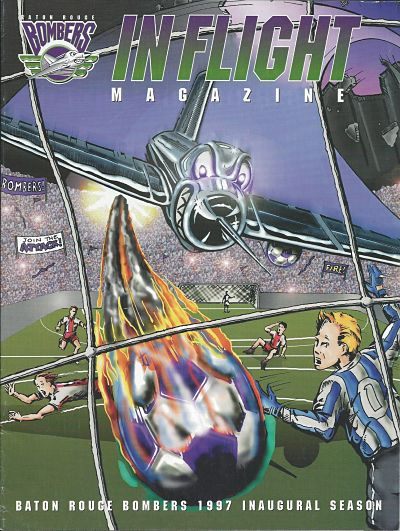 Eastern Indoor Soccer League (1997-1998)
Born: 1997 – EISL Founding Franchise
Folded: December 31, 1998
Arena: Riverside Centroplex (8,284)
Team Colors:
Owners: Thomas Galloway & D. Wayne Elmore
EISL Championships: None
The Baton Rouge Bombers were a minor league indoor soccer team in the short-lived Eastern Indoor Soccer League (1997-1998).  The EISL featured teams in secondary markets with 5,000 to 10,000 seat arenas in the Southeastern states of Alabama, Florida, Georgia, Louisiana and Mississippi.
The Baton Rouge owners, Thomas Galloway and Wayne Elmore, also owned the Bombers' in-state rivals, the Lafayette SwampCats.  During the EISL's first season, the SwampCats finished in first place and the Bombers right behind in second with a 16-8 record.  The clubs met in an all-Louisiana championship game in September 1998, with Lafayette triumphing 12-9.
The following season, the Bombers went 16-12 but fell to the arch-rival SwampCats once again in the playoffs, this time in the semi-final round.
After two seasons of operation, membership in the EISL dropped to just five clubs in the winter of 1998 and the league decided to close its doors on December 31, 1998.
Links
Eastern Indoor Soccer League Media Guides
Eastern Indoor Soccer League Programs
###