California League (1950-1952)
Born: 1950
Died: Postseason 1952 – Braves affiliation ended. Re-branded as Ventura Oilers.
Stadium: Babe Ruth Field
Team Colors:
Owner:
A really beautiful old score book from the short-lived Ventura Braves of the Class C California League.  The Braves were a low-level farm club of the National League's Boston Braves.
Only one Ventura Braves farmhand ever advanced to the Majors with the Braves.  Bob Roselli was an 18-year old rookie on the 1950 Braves club and returned again to play for Ventura in 1951.  Roselli eventually made it to the big leagues with the Braves in 1955, who had by then moved to Milwaukee.
Ventura had only two other players who ever enjoyed Major League experience.  Both were player-managers for the club and both were in their thirties by the time they arrived in Ventura and on the downside of their careers.  Gene Lillard played in 44 games for the Chicago Cubs and St. Louis Cardinals between 1936 and 1940.  He was Ventura's player-manager in 1950 and 1951 and led the Braves to the best record in the California League in 1950.  He also finished second in the league in batting that season, with a .327 average at age 36.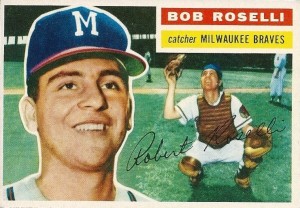 Bobby Spurgeon took over the managerial reigns in 1952.  Spurgeon played 420 Major League games with the Cubs and the Boston Braves between 1940 and 1948.
Overall, the golden era of pro baseball in Ventura lasted from 1947 to 1955.  The New York Yankees were the first to town, sponsoring the Ventura Yankees from 1947 to 1949.  The Braves also stayed three years from 1950 to 1952.  After the Braves pulled out in 1952, Ventura could not find a new Major League partner.  The Ventura Oilers played as an unaffiliated club in the California League in 1953.  In 1954 and 1955, the ball club split games between Ventura's Babe Ruth Field and Laguna Park in Santa Barbara and was known as the Channel Cities Oilers. The Oilers bolted for Reno, Nevada in mid-season 1955.
The California League returned three decades later for a single season in 1986 with the Ventura County Gulls, a Toronto Blue Jays affiliate.  That club lasted only one year before departing.
==Links==
###