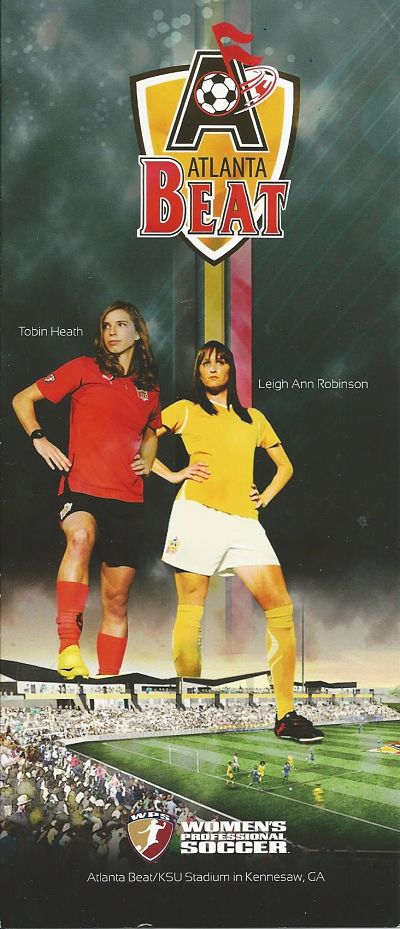 Women's Professional Soccer (2010-2011)
Born: June 2009 – WPS expansion franchise.
Folded: January 30, 2012
Stadium: KSU Soccer Stadium (8,318)
Team Colors:
Owner: T. Fitz Johnson
The Atlanta Beat were one of two expansion franchises (along with the Philadelphia Independence) to join the short-lived Women's Professional Soccer for its second season of action in 2010.  The club was a brand revival of Atlanta's previous women's pro team, the 2001-2003 Atlanta Beat of the Women's United Soccer Association.  But aside from purchasing the trademark to the defunct club, the "new" Beat possessed no other formal connections to the prior franchise.  The ownership, players, stadium and front office staff were all entirely new.
Team owner Fitz Johnson was a charismatic U.S. Army veteran, attorney and former defense contractor.  Johnson's family business was sold to Lockheed Martin in April 2008 for an undisclosed but sizable sum.  Like the majority of WPS franchise owners, Johnson had soccer-playing daughters. The club played two seasons before folding along with the rest of WPS in January 2012.
==KSU Soccer Stadium Artist Renderings==
==Atlanta Beat Programs on Fun While It Lasted==
==YouTube==
Inaugural home game and opening of KSU Soccer Stadium, May 9, 2010
==Key Players==
Carli Lloyd (2011)
Hope Solo (2010)
==Downloads==
2009 WPS Expansion Draft Mechanics for Atlanta Beat & Philadelphia Independence
2010 Atlanta Beat Digital Media Guide
==Links==
Women's Professional Soccer Media Guides
Women's Professional Soccer Programs
###