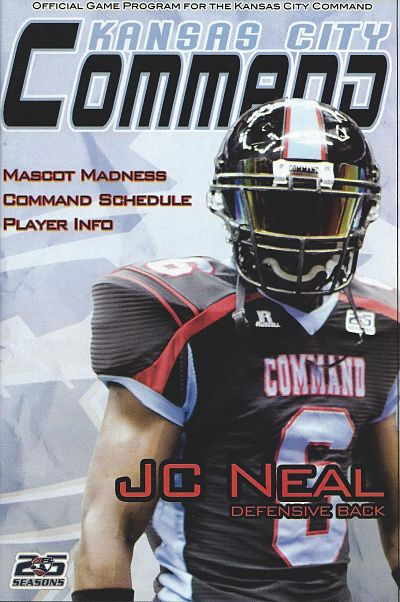 Kansas City Command vs. Chicago Rush
June 23, 2012
The Sprint Center
Arena Football League Programs
38 pages
The Arena Football League lost its first franchise in what many observers expect to be a grim offseason last Friday when the Kansas City Command quietly pulled out of the league on August 23rd.  Also purportedly in trouble: the Georgia Force and Milwaukee Mustangs, both of whom have pitiful followings in their markets, and the league-run Chicago Rush, which has been adrift since its previous investor group walked away last fall.  The Pittsburgh Power (more on them in a moment) saw announced attendance decline over 50% in their second year of action.
It's been a weird year for an increasingly weird league. The AFL's tag line this year was "Year of the Fan", but "Year of the Scab" would have been more like it.  The season was dominated by a protracted and disorganized labor dispute that saw players and owners squabbling  publicly over the handful of pocket change left in the sport after the recession and a disastrous 2009 bankruptcy.  Some (or all?) of the players may (or may not?) be represented by Ivan Soto, a mysterious financial adviser from Ohio who rails against ownership to his tiny army of 200 Twitter followers.  Soto's questionable tactics included persuading a single team – the Cleveland Gladiators – to strike on their own for one game, resulting in a forfeit that helped knock them out of the playoffs.  Whoops.
Owners and league execs have seen and raised Soto's buffoonery on several occasions, most majestically when Pittsburgh Power honcho Matt Shaner fired his entire team during dinner at Olive Garden and abandoned them in Florida a few hours before the first game of the season.  Shaner's theatrics drew more attention to the AFL than any other story in this Year of the Fan, including the league's showpiece Arena Bowl XXV championship game, played before a comically inflated announced crowd of 13,648 in New Orleans two weeks ago.
The AFL promoted the 2012 season as the league's 25th Anniversary, harkening back to the founding of the original Arena Football League in 1987.  But that's rather disingenuous.  It's kind of like saying you've seen Motley Crue in concert, when what you really mean is that you saw a tribute band called Shout At The Devil play in a South Carolina bowling alley.  While the sport (and some of the intellectual property) is indeed a quarter century old, today's Arena Football League is just three years old and boy is it different than what came before.
The original league (1987-2008) played for two decades and had quite a few problems of its own.  Most fundamentally, it never solved the eternal revenue/expense problem faced by leagues that play as tenants in other people's buildings.  But these business model problems were hidden by a speculative bubble in expansion fees in the early 2000's, a charismatic chief executive in C. David Baker, and a brief fling with the NFL, that saw investment pour into the AFL from deep-pocketed NFL owners like Arthur Blank, Pat Bowlen, Tom Benson and Jerry Jones.  For a half decade or so, the money kept flowing and the creditors remained patient.
The bubble deflated for the original AFL in 2008 after three years without new expansion money.  The NFL guys got out and never looked back.  There was no Arena Football in 2009 as the league went bankrupt.  This new league, launched in 2010, is primarily composed of the poorer owners from the old league and its former small-market minor league system.  These guys scraped together $6.1 million bucks in late 2009 to purchase the old league's IP rights at a bankruptcy auction.  Many of the old team identities have been revived and the original league's history has been reclaimed and packaged as if it were never interrupted.  The only elements missing are the high quality players of the first league – driven away by salary reductions both draconian and inevitable – and the fans, who seem to detect the aura of shabbiness that envelops this new entity.
The question now is whether Arena Football is poised to go the way of indoor soccer, which was bigger than outdoor soccer (and more popular than the NBA in a few cities) in the 1980's, but has now languished for more than a decade in state of complete and utter irrelevance.  Kansas City may be the first domino to fall in a decisive autumn/winter for the "new" AFL.   But more likely, the league will muddle through for many more years, chasing an elusive formula of smaller arenas, cheaper workers (both on field and off) and lowered expectations in a "Puppet Show and Spinal Tap" kind of way.   There are several second tier football leagues out there trying to carve out a piece of market share – the new, retro-themed USFL, the zombie carcass of the United Football League – but the Arena Football League is the only one that has already fired the silver bullet that the others so obviously covet: partnership with the NFL.  The AFL had that chance once.  It didn't work out and it's probably never coming back.  It's hard to imagine what's next to resuscitate this sport.