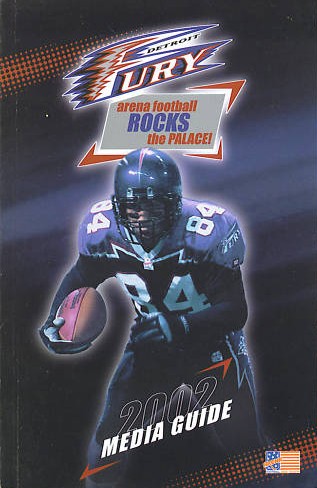 Arena Football League (2001-2004)
Born: Arena Football expansion franchise.
Folded: September 20, 2004
Arena: The Palace of Auburn Hills (20,804)
Team Colors: Black, Red, Purple & Silver
Owners: William Davidson & William Clay Ford, Jr.
Arena Bowl Championships: None
The Detroit Fury of the Arena Football League were a short-lived joint venture between Bill Davidson's Palace Sports & Entertainment (owners of the NBA's Detroit Pistons) and  Detroit Lions owner William Clay Ford, Jr.
An earlier Motor City entry in the league, the Detroit Drive (1988-1993), won four Arena Bowl championships and drew large crowds to the Joe Louis Arena downtown.  But the Fury were unable to revive that promise at the suburban Palace of Auburn Hills.  The Fury compiled a 22-41 record over four seasons of play, never finishing better than .500 under Head Coaches Mouse Davis (2001-2002), Al Luginbill (2003) and Al's son Tom Luginbill (2004).
Detroit never really took to the team either – the Fury consistently ranked near the bottom of league at the box office. Overall, the team claimed an average of 8,152 fans for 30 home dates over four years.
Palace Sports & Entertainment folded the club on September 20, 2004 after four money-losing seasons.
Years later, former Fury staffer Dave Wieme gave an lengthy interview to Crain's Detroit Business where he recalled the business challenges of operating the team.
Detroit Fury Memorabilia
Links
"What killed the AFL's Detroit Fury? The rent was too damn high" Bill Shea, Crain's Detroit Business, January 23, 2013
Arena Football League Media Guides
Arena Football League Programs
###