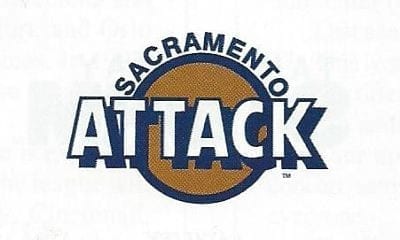 Arena Football League (1992)
Founded: May 5, 1992
Folded: Early 1993
Arena: ARCO Arena
Team Colors:
Owner/Operator: Jim Thomas, et al. (Lease team from Arena Football League)
Arena Bowl Championships: None
The Sacramento Attack were a hastily assembled Arena Football League squad that lasted just a single season in the California state capital in 1992. In fact, the Attack played just opened the gates of ARCO Arena in Sacramento during their brief existence.
The franchise had a convoluted back story.  The team was first announced in early March 1992 as an expansion franchise called the L.A. Wings that intended to play in the Los Angeles Memorial Sports Arena.  The original ownership group, headed by Jim Hartman, wanted to play in Denver. Hartman acquired the contract rights to most of the players from the Denver Dynamite, a rudderless AFL franchise that had lost its ownership group. For reasons never fully explained, Hartman's group was either dissuaded or prevented from playing in Denver. Thus the L.A. Wings were born. Hartman hired former Cal star quarterback Joe Kapp, who led the Minnesota Vikings to a berth in Super Bowl IV, as the Wings' head coach.
One month later the Hartman was out and the Wings were done in L.A. With the start of the 1992 season just three weeks away, the Arena Football League scrambled to find a home for the team.  In early May 1992, the ownership of the NBA's Sacramento Kings agreed to operate the team on a leased basis at ARCO Arena. Kapp came along for the move, as did many of the former Denver Dynamite players still on the team's roster. The team name was changed to Sacramento Attack.
The Attack backed in the Arena League playoffs with a 4-6 record.  The team lost in the first round to the eventual champions, the Detroit Drive, on August 7th, 1992.  That was the last appearance of the Sacramento Attack, just 92 days after the team was formed. Sacramento Kings management declined to renew their lease arrangement with the Arena Football League in 1993, choosing to cast their lot with indoor soccer instead to fill summer dates at ARCO Arena.
Sacramento Attack Memorabilia
Attack Video
Brief clip of the Sacramento Attack on the road at the Arizona Rattlers on June 13, 1992.
Links
Arena Football League Media Guides
Arena Football League Programs
###