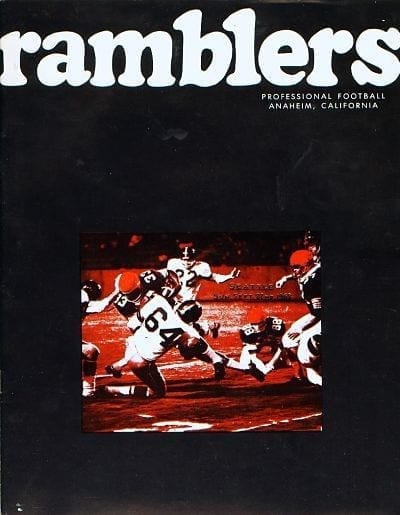 Continental Football League (1967-1968)
Born: 1967
Moved: 1969 (Portland Loggers)
Stadiums:
Team Colors:
Owners:
The Orange County Ramblers were a superb minor league football team that enjoyed a brief two-year existence in the late 1960's. Under Head Coach Homer Beatty, the Ramblers assembled a 21-3 record over two regular seasons in the Continental Football League. The CoFL (1965-1969) existed one rung beneath the NFL and AFL and lived up to its ambitious name, with franchises stretched across the United States and Canada. Only one minor league squad in North American could lick the Ramblers – the Orlando Panthers, who defeated the Californians in the Continental League championship game in both 1967 and 1968.
Good as they were, the Ramblers couldn't sustain much of a following in Orange County. The team tried several venues in Santa Ana and Anaheim. The team's best crowds, announced in the 8,000 – 10,000 range, came during a late season stretch of games at Anaheim Stadium in 1967. This included a gathering of 8,730 for the Continental Football League title game on December 10th, 1967. But when the Ramblers returned to the 43,000-seat Major League Baseball venue to start the 1968 season, the fans failed to come with them. The Ramblers failed to crack 4,000 fans for a single contest in 1968 despite a league-best 11-1 record. The team moved to San Bernardino midway through the season in search of more fans (or at least cheaper rent).
The Ramblers' final appearance was a 30-23 loss to the Panthers in the Continental League championship game at the Tangerine Bowl in Orlando on November 30th, 1968.
The Ramblers were expelled from the Continental League in the spring of 1969. The team's player contracts were originally assigned to a group hoping to put a new franchise in Hawaii. When those plans fell through, the contracts were given to a hastily-organized group that entered a Portland, Oregon franchise (the Loggers) into the CoFL just weeks before the 1969 season kicked off. The Continental League folded at the end of the 1969 campaign.
==Orange County Ramblers Programs on Fun While It Lasted==
==Links==
Contintental Football League Media Guides
Continental Football League Programs
###