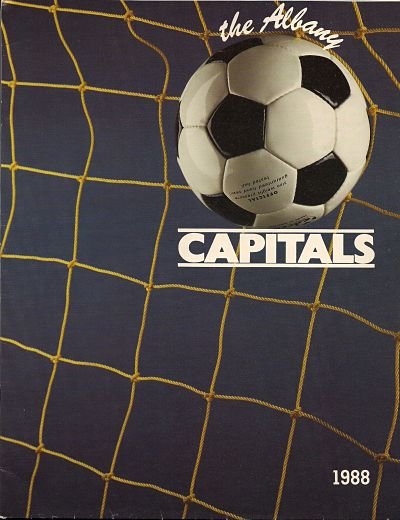 American Soccer League (1988-1990)
American Professional Soccer League (1990-1991)
Born: 1987 – ASL founding franchise
Folded: Postseason 1991
Stadium: Bleecker Stadium (6,000)
Team Colors: Blue & White
Owner: Armand Quadrini
The Albany Capitals were a late 80's/early 90's professional soccer team in the capital district of New York.  The club played in the American Soccer League, which was the highest level of professional soccer in the United States at the time, despite it's very modest scale and budget.  The ASL later changed its name to the American Professional Soccer League during the Caps final two seasons, as the result of a merger with the Western Soccer League in 1990.  The team played in 55-year old Bleecker Stadium, the city's Depression-era multi-purpose stadium.
The Capitals, owned by local property develop Armand Quadrini, were a shoestring operation.  During the ASL's first season 1988, the league salary cap was a meager $50,000 and the entire operating budget for the Capitals was reportedly just $250,000.  Attendance was barely over 1,000 fans per game in 1988 and the Caps never drew more than 2,000 or a single match that year, although crowds would pick up slightly in the seasons to follow.
Despite the low budget, the Capitals managed to attract some interesting players over the years, mostly because there were just very few opportunities to play outdoor soccer in the United States at the time.  U.S. National Team mainstay John Harkes made his pro debut with the club in 1989, playing alongside USNT teammates Brian Bliss and Mike Windischmann.  Forward Chico Borja was a former New York Cosmos who earned most of this pay during the winter playing indoors, which is where most of the money was in American soccer during this era.  Like Borja, goalkeeper Arnie Mausser was another North American Soccer League veteran playing out his final few outdoor seasons in the ASL.  Future ESPN and NBC soccer broadcaster Glenn Davis also played for the Caps.
During the Capitals' final season in 1991, the club advanced to the APSL Championship Series against the San Francisco Bay Blackhawks, despite a losing regular season record of 10-11.  The Capitals won Game One by a score of 3-1, but dropped Game Two and the tie-breaking "mini-game" to lose the series.  These proved to be the last matches the club ever played.
The Capitals folded during the winter of 1991-1992.
==Albany Capitals Programs on Fun While It Lasted==
==Links==
American Soccer League Media Guides
American Soccer League Programs
###