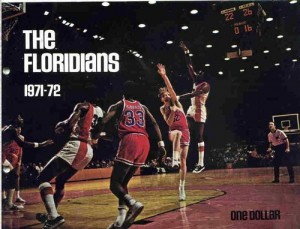 1971-72 Floridians media guide
American Basketball Association media guides
36 pages
This showed up in the post office box this morning.  A media guide from the final season of "The Floridians", one of the all-time cult classic teams of the American Basketball Association.  The Floridians trekked all over Florida for four seasons between 1968 and 1972, but things didn't get awesome until Ned Doyle of Manhattan ad agency Doyle, Dane Bernback bought the team in 1970.
Coming off a disappointing 1969-70 campaign, Doyle fired the entire team, keeping only Head Coach Harold Blitman.  "Instead of firing the coach, we fired the team", the ad guru bragged in a print campaign to promote "The New Floridians".  Among Doyle's off-the-court innovations:
The Floridian Ballgirls wore hands-down the skimpiest outfits in pro cheerleading history.  At least two were still in high school.  Among other routines, the girls jiggled under the basket to distract Floridians opponents at the free throw stripe.
The players also got mod new uniforms.  The new Floridians kit for 1970 had no team name on the front – an innovation in its own right – and futuristic magenta and orange vertical stripes running from waist to shoulder.   In 2004 and again in 2012 the Miami Heat of the NBA have revived the iconic Floridians jerseys for throwback games.  Check here for the Heat's promotional photo shoot for the 2012 throwback nights.
A never ending parade of giveaways and gimmicks sent Floridians fans home with prizes such as 57 pounds of potatoes, 15 pounds of gefilte fish or live turkeys at Thanksgiving.
Despite all the hustling, the team never caught on in Miami or its other occasional Florida homes in Jacksonville and Tampa Bay.  Doyle folded the club in June 1972.
Arthur Hundhausen has a terrific retrospective on the Floridians at his website RemembertheABA.com.