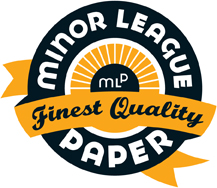 The roots of Fun While It Lasted are in a little eBay hobby business called Minor League Paper that I started in 2008.  By that time, my front office career had become consumed with bean counting and financial management and increasingly removed from the creativity and hustle that drew me to the minors since I was a teenager.  Searching out vintage equipment, uniforms, photos, programs and assorted relics and trading them with other obsessives re-connected me with what I loved about the ballparks and the games in the first place.
Eventually I wanted to do more than buy and sell – I wanted to share the stories behind the artifacts that arrived in my P.O. box every few days.  The ever growing collection of high-quality images used in the Minor League Paper store became one of the building blocks of this site.  Most of the images you see here are of memorabilia that passed through our store at some point.
So now there's this website, but Minor League Paper still exists in its own right.  In fact, MLP now carries the largest specialty inventory of minor league and defunct team vintage memorabilia on eBay.  This year we will ship more than 1,500 pieces to collectors around the world.
Click here to visit Minor League Paper and browse today's inventory.
And yes, we do buy personal collections and team surplus large and small.  We are currently buying*:
Game worn uniforms and game used equipment
Unsold retail apparel stock
Programs, yearbooks & media guides
Original photos & negatives
Pre-1990 posters and promotional materials
Player contracts, leases, memoranda and business correspondence (defunct teams only)
*Please note: we do not purchase trading card collections or autographed memorabilia.
Contact us if you would like to discuss the sale or consignment of your items.