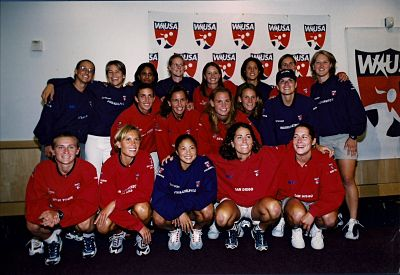 Use the drop down menus or click these links for our chronological galleries of game programs and media guides from the Women's United Soccer Association (2001-2003).
The WUSA launched in April 2001, spurred by the success of the 1999 FIFA Women's World Cup tournament hosted by the United States. Structured as a single entity business and backed by cable TV investors, WUSA enjoyed franchise stability (none of its eight individual clubs folded or relocated) and succeeded in attracting many of the top players from around the world.
The league underperformed expectations dramatically in corporate sponsorship and television ratings, resulting in an estimated $100 million in losses over three seasons.  The league folded under financial duress on September 15th, 2003.
Women's United Soccer Association Franchise List