In fairness to Major League Soccer, the league doesn't really belong on Fun While It Lasted, where we chronicle teams of the past and defunct pro sports organizations. MLS has lost only two franchises in its 18-year history – the Miami Fusion and the Tampa Bay Mutiny were contracted in January 2002. But because our American soccer galleries are among the most popular sections of the site, we've included MLS just to be completists. And from an aesthetic standpoint, the league has produced some very attractive programs and media guides over the years.
While the franchises have been stable, the league has abandoned a number of team "brands" over the years. MLS launched in 1996 with highly conceptual identities such as the Burn (Dallas), Clash (San Jose), Metrostars (New York/New Jersey) and Wiz (Kansas City) that seemed dated by the early 21st century. These names have since been revamped and the recent wave of MLS expansion clubs have tended to adopt either European-styled brands (e.g. Real Salt Lake, Toronto FC) or to resuscitate nostalgic brands from the North American Soccer League of the 1970's (e.g. Portland Timbers, Seattle Sounders, Vancouver Whitecaps).
Starting around 2009, MLS and its franchises began migrating towards digital (.PDF) production of media guides. MLS produced its last printed league guide for the 2009 season. A few clubs continue to produce printed team guides as late as 2011, while others, such as the famed Los Angeles Galaxy club, have now gone digital only.   For an definitive guide to MLS publications, we recommend Tony Passero's  MLS Archives fan site.
As always, guides are listed in chronological order, oldest first. Some of these may be available in our e-Bay store on any given day. Click on a picture to find out if we have it in stock.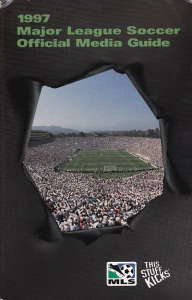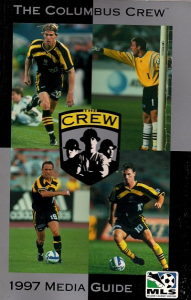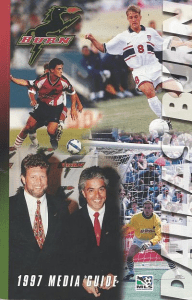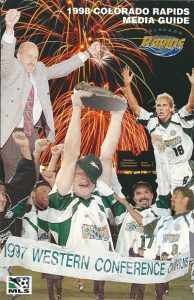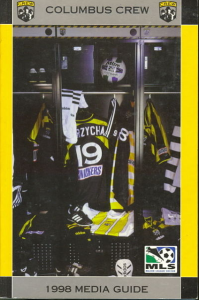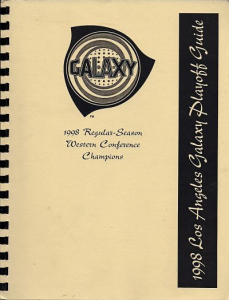 <