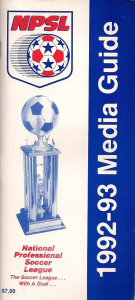 The American Indoor Soccer Association (AISA) formed in 1984 as a Midwest-based indoor soccer circuit.   The league was a second tier effort by design, playing primarily in small minor league hockey arenas in cities such as Canton, Columbus, Kalamazoo and Milwaukee.  Early AISA players typically aspired to move up to the Major Indoor Soccer League, which offered highest level of professional soccer in the United States (indoor or outdoor) from 1984 through the end of the decade.
In the late 1980's the AISA began to expand its geographic footprint and to lease higher quality arenas.  To reflect its new sense of ambition, the league re-branded itself as the National Professional Soccer League prior to the 1990-91 season.   The league also began to tinker with traditional indoor soccer scoring rules (which awarded one point for each goal) in the  late 1980's, creating 2-point and 3-point goals for scoring from distance, as well as distinctions between the value of full strength and power play goals.  By the 1990's, double-digit scores were the norm in NPSL games.
The league continued to expand aggressively in the 1990's, placing franchises from Florida to Denver to Montreal.  But the overall fortunes of the sport were in decline and the NPSL terminated operations at the end of the 2000-01 season.  Six NPSL franchises soldiered on for a while in successor leagues.
Two former NPSL clubs are still in operation as of 2016, including the Milwaukee Wave who began play as an original AISA franchise in the winter of 1984.  The other surviving club is the Baltimore Blast.
==Franchise List==
| Franchise | Years Active | Tagged Posts |
| --- | --- | --- |
| Atlanta Attack | 1989-1991 | Tagged Posts |
| Baltimore Blast | 1998-2001 | Tagged Posts |
| Baltimore Spirit | 1992-1998 | Tagged Posts |
| Buffalo Blizzard | 1992-2001 | Tagged Posts |
| Canton Invaders | 1984-1996 |  Tagged Posts |
| Chicago Power | 1988-1996 | Tagged Posts |
| Chicago Shoccers | 1985-1987 | Tagged Posts |
| Chicago Vultures | 1984-1985 | Tagged Posts |
| Cincinnati Silverbacks | 1995-1998 | Tagged Posts |
| Cleveland Crunch | 1992-2001 | Tagged Posts |
| Columbus Capitals | 1984-1986 | Tagged Posts |
| Columbus Invaders | 1996-1997 | Tagged Posts |
| Dayton Dynamo | 1988-1995 | Tagged Posts |
| Denver Thunder | 1992-1993 | Tagged Posts |
| Detroit Rockers | 1990-2001 | Tagged Posts |
| Edmonton Drillers | 1996-2000 | Tagged Posts |
| Florida Thundercats | 1998-1999 | Tagged Posts |
| Fort Wayne Flames | 1986-1989 | Tagged Posts |
| Harrisburg Heat | 1991-2001 | Tagged Posts |
| Hershey Impact | 1988-1991 | Tagged Posts |
| Illinois Thunder | 1990-1992 | Tagged Posts |
| Indiana Kick | 1989-1990 | Tagged Posts |
| Jacksonville Generals | 1988 | Tagged Posts |
| Kalamazoo Kangaroos | 1984-1986 | Tagged Posts |
| Kansas City Attack | 1991-2001 |  Tagged Posts |
| Louisville Thunder | 1984-1987 | Tagged Posts |
| Memphis Rogues | 1989-1990 | Tagged Posts |
| Memphis Storm | 1986-1989 | Tagged Posts |
| Milwaukee Wave | 1984-2001 | Tagged Posts |
| Montreal Impact | 1997-2000 | Tagged Posts |
| New York Kick | 1990-1991 | Tagged Posts |
| Philadelphia Kixx | 1996-2001 | Tagged Posts |
| St. Louis Ambush | 1992-2000 | Tagged Posts |
| Tampa Bay Rowdies | 1986-1987 | Tagged Posts |
| Tampa Bay Terror | 1995-1997 | Tagged Posts |
| Toledo Pride | 1986-1987 | Tagged Posts |
| Toronto Shooting Stars | 1996-1997 | Tagged Posts |
| Toronto ThunderHawks | 2000-2001 | Tagged Posts |
| Tulsa Ambush | 1991-1992 | Tagged Posts |
| Wichita Wings | 1992-2001 |  Tagged Posts |