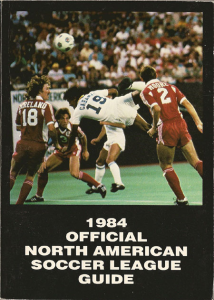 This is a gallery of Media Guides for the old North American Soccer League, which was active from 1968 to 1984.
Virtually every club produced a high quality guide during the 17 seasons that the NASL existed, meaning a complete collection would involved hundreds of publications.  In addition, the NASL also played four indoor soccer campaigns between 1979 and the league's demise in 1984.  Separate media guides exist for each indoor team and season.  The league itself also published a guide every season from 1969 to 1984.  In 1968, The Sporting News published an Official Guide for the NASL in lieu of a league-published guide.
The most sought after guides include:
Any featuring the New York Cosmos (1971-1984)
The all-league guides for the indoor seasons (1979-80, 1980-81, 1981-82 and 1983-84)
Individual team guides from the league's final season in 1984, which happen to be especially scarce.
A prominent collector split up his collection on e-Bay in early 2012.  While most guides went in the typical range of $8 – $15 a piece, rare 1984 guides for the Golden Bay Earthquakes, San Diego Sockers and Toronto Blizzard all fetched in excess of $60 each.
North American Soccer League Media Guides 1968-1984