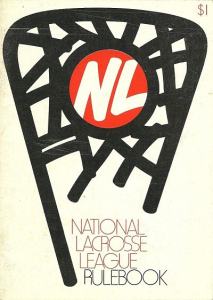 The National Lacrosse League was a professional box (indoor) lacrosse circuit active during the summers of 1974 and 1975.  NLL clubs played in some of the major and historic hockey arenas in the Northeast and eastern Canada. The summer seasons conditions could be brutal for players and fans alike in buildings like the Boston Garden and Toronto's Maple Leafs that lacked air conditioning.
Players could earn about $6,500 a year playing in the NLL.  The league's talent pool included a large number of Canadians, many of First Nations origin, and a handful of moonlighting ice hockey players.  Two particular notables were Buffalo Sabres left winter Rick Dudley, who played for the 1974 NLL champion Rochester Griffins and future United States Men's National Soccer Team head coach Bruce Arena who suited up for the Montreal Quebecois.
The league's franchises were unstable, with several shutdowns and relocations during the NLL's brief history.  Nevertheless, teams in Maryland, Montreal and Philadelphia (especially) proved to be popular box office draws.  The league folded in early 1976 before a third season could get underway.
The NLL of the 1970's is not to be confused with today's National Lacrosse League, which is a nationwide indoor league that traces its roots back to 1987.  After several name changes, the modern day league adopted the National Lacrosse League name in 1998.  The Philadelphia Wings franchise of the modern day NLL formed in 1987 and revived the name and updated the logo of the 1970's Philadelphia Wings of the original NLL.
National Lacrosse League Franchise List