The International Volleyball Association was a co-ed professional volleyball league based on the West Coast of the United States from 1975 to 1980.  Hollywood producer David L. Wolper (Roots, Willy Wonka & The Chocolate Factory) founded the league after being impressed by the volleyball competition at the 1972 Munich Olympics.  Celebrity ownership was an early hook for the IVA, with Wolper running the Los Angeles Stars franchise, Motown Records President Berry Gordy involved with the San Diego Breakers and recently retired NBA superstar Wilt Chamberlain pulling double duty and owner/occasional player for the Southern California Bangers.  Thanks in part to the high profile ownership, Sports Illustrated devoted a lengthy feature to the league's inaugural match at the San Diego Sports Arena in June 1975.
The celebrities (other than Chamberlain, who became IVA President) dropped out by the end of 1976.  James L. Bartlett III, publisher of Volleyball magazine invested in the league in 1977 and the league enjoyed a few seasons of stable, if rather anonymous, existence in the late 1970's.  CBS Sports even televised the IVA's 1977 All-Star Game, featuring Chamberlain, on July 17th, 1977.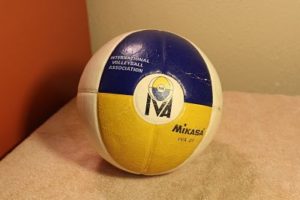 The era of quiet stability ended in July 1979 when government agents raided the offices of the IVA's Denver Comets and arrested team owners Robert and David Casey, along with other team employees, on charges of running a multi-state cocaine and marijuana trafficking operation.  The Comets were, at the time, one of the league's model franchises.  With their owners awaiting trial, the Comets manage to stagger on into 1980 along with a handful of other IVA franchises, but investor confidence was rapidly ebbing away.
The decision by President Carter to boycott the 1980 Moscow Olympics deprived the IVA of a significant platform to promote interest in volleyball.  The Seattle Smashers franchise was kicked out of the league for financial inadequacy just days before the start of the 1980 season, but in reality most of the clubs could have met the same fate.  The San Jose Diablos folded the following month.  In July 1980, the entire league folded quietly without managing to complete its sixth season.  The closure merited one article in The Los Angeles Times but otherwise attracted almost no attention from the sporting press.
International Volleyball Association Franchise List