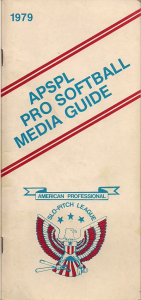 Between 1977 and 1982, three men's professional softball leagues existed in the United States.
The first to form was the American Professional Slo-Pitch League, created by Columbus, Ohio promoter Bill Byrne, in 1977.  The APSPL lasted four seasons, playing from 1977 to 1980.
After the 1979 APSPL season, Cleveland Competitors owner Ted Stepien (who would also buy the NBA"s Cleveland Cavaliers in 1980), split from the APSPL to form the rival North American Softball League (NASL).  The Milwaukee Schlitz franchise also left to join the NASL.  The Competitors and the Schlitz were complemented by six new Midwestern NASL franchises, including the delightfully named Fort Wayne Huggie Bears.  Both leagues fielded clubs in Cincinnati and in Pittsburgh during the summer of 1980, competing for the very limited pro softball audience.
Stepien pulled out of pro softball after the 1980 season, resulting in the collapse of the NASL.  The Milwaukee Schlitz franchise essentially re-joined thesix surviving franchises of the APSPL, and then the league announced a name change to the United Professional Softball League (UPSL) for the 1981 season.  The UPSL last two seasons, playing its final campaign in the summer of 1982.
 American Professional Slo-Pitch League Franchise List (1977-1980)
North American Softball League Franchise List (1980)
| Franchise | Years Active | NASL Champions |
| --- | --- | --- |
| Chicago Nationwide Advertising | 1980 | None |
| Cincinnati Rivermen | 1980 | None |
| Cleveland Stepien's Competitors | 1980 | None |
| Detroit Auto Kings | 1980 | None |
| Fort Wayne Huggie Bears | 1980 | None |
| Lexington Stallions | 1980 | None |
| Milwaukee Schlitz | 1980 | 1980 |
| Pittsburgh Champions | 1980 | None |
United Professional Softball League Franchise List (1981-1982)