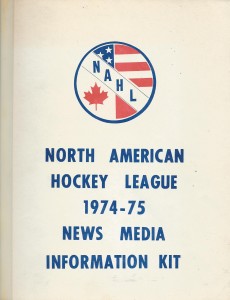 The North American Hockey League was one of two leagues (the Southern Hockey League was the other) that formed out of the break-up of the Eastern Hockey League in 1973.  NAHL franchises stretched from Pennsylvania up through New York and New England to Quebec, where the league's lone Canadian entry, the Beauce Jaros, made their home.  It was a rough-and-tumble operation and the league's antics – particularly the goonism and emphasis on fighting so prevalent in minor league hockey of the era – that provided the inspiration for the Paul Newman comedy Slap Shot.  The film's fictional Charlestown Chiefs club is modeled after the NAHL's Johnstown Jets.
Many NAHL clubs served as farm clubs for members of the World Hockey Association, a 1970's rival to the National Hockey League.  Thus, a few clubs such as the Maine Nordiques (farm club of the Quebec Nordiques) and Long Island Cougars (Chicago Cougars) adapted their names from WHA parent clubs.
Reduced to only five teams, the NAHL owners voted to disband in late September 1977, just a few weeks before what would have been the league's fifth season.  The end came only seven months after Slap Shot hit movie theatres in February 1977.  The film never references the NAHL by name – the characters in Slap Shot play in the fictitious "Federal League".
North American Hockey League Franchise List