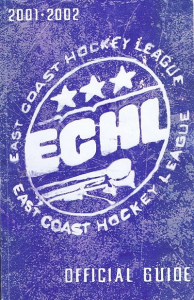 The East Coast Hockey League formed in 1988 with five refugee clubs from the All-American Hockey League and the Atlantic Coast Hockey League, a pair of low-level minor league loops that went out of business after the 1987-88 season.  The original teams were based in Pennsylvania and the Southeastern United States.
In its early years the ECHL operated as a purely independent league.  ECHL teams had no affiliations with NHL clubs and the league was considered to be substantially below the level of play in the two affiliated leagues, the American Hockey League and the International  Hockey League.  The early ECHL brand was a throw back to the Slap Shot era of the 1970's, with brawling and fighting a prominent selling point.  On the plus side, the independent status of the league meant that fan favorites tended to stay with clubs year after year, which helped several Southeastern clubs to develop passionate followings.
In its second decade, with the International League in decline (it would fold in 2001) the ECHL began to establish NHL affiliations.  The ECHL effectively became the NHL's "double-A" league and began to expand into larger markets and more modern arenas across the United States.
In 2003, the ECHL accepted seven Western U.S. franchises from the defunct West Coast Hockey League which pushed league membership to an all-time peak of 31 clubs for the 2003-04 season.  With the ECHL now active in Alaska and California, the league's original name no longer made sense.  As of May 2003, the league is officially known simply as the "ECHL", but this no longer stands for "East Coast Hockey League".  However, many fans still colloquially use the old name to this day.
==Franchise List==
| Franchise | Years Active | Home Page | Tagged Posts |
| --- | --- | --- | --- |
| Alaska Aces | 2003-Present | Aces Home | Tagged Posts |
| Arkansas RiverBlades | 1999-2003 | RiverBlades Home | Tagged Posts |
| Atlantic City Boardwalk Bullies | 2001-2005 | Boardwalk Bullies Home | Tagged Posts |
| Augusta Lynx | 1998-2008 | Lynx Home | Tagged Posts |
| Bakersfield Condors | 2003-Present | Condors Home | Tagged Posts |
| Baton Rouge Kingfish | 1996-2003 | Kingfish Home | Tagged Posts |
| Birmingham Bulls | 1992-2001 | Bulls Home | Tagged Posts |
| Carolina Thunderbirds | 1988-1989 | Thunderbirds Home | Tagged Posts |
| Charlotte Checkers | 1993-2010 | Checkers Home | Tagged Posts |
| Chesapeake Icebreakaers | 1997-1999 | Icebreakers Home | Tagged Posts |
| Chicago Express | 2011-2012 | Express Home | Tagged Posts |
| Cincinnati Cyclones | 1990-1992 | Cyclones Home | Tagged Posts |
| Cincinnati Cyclones | 2001-2004 & 2006-Present | Cyclones Home | Tagged Posts |
| Colorado Eagles | 2011-Present | Eagles Home | Tagged Posts |
| Columbia Inferno | 2001-2008 | Inferno Home | Tagged Posts |
| Columbus (OH) Chill | 1991-1999 | Chill Home | Tagged Posts |
| Columbus (GA) Cottonmouths | 2001-2004 | Cottonmouths Home | Tagged Posts |
| Dayton Bombers | 1991-2009 | Bombers Home | Tagged Posts |
| Elmira Jackals | 2007-Present | Jackals Home | Tagged Posts |
| Erie Panthers | 1988-1996 | Panthers Home | Tagged Posts |
| Evansville IceMen | 2011-Present | IceMen Home | Tagged Posts |
| Florence Pride | 2003-2004 | Pride Home | Tagged Posts |
| Florida Everblades | 1998-Present | Everblades Home | Tagged Posts |
| Fort Wayne Komets | 2012-Present | Komets Home | Tagged Posts |
| Fresno Falcons | 2003-2008 | Falcons Home | Tagged Posts |
| Greensboro Generals | 1999-2004 | Generals Home | Tagged Posts |
| Greensboro Monarchs | 1989-1995 | Monarchs Home | Tagged Posts |
| Greenville Grrrowl | 1998-2006 | Grrrowl Home | Tagged Posts |
| Greenville Road Warriors |  2010-Present | Road Warriors Home | Tagged Posts |
| Gwinnett Gladiators | 2003-Present | Gladiators Home | Tagged Posts |
| Hampton Roads Admirals | 1989-2000 | Admirals Home | Tagged Posts |
| Huntington Blizzard | 1993-2000 | Blizzard Home | Tagged Posts |
| Huntsville Blast | 1993-1994 | Blast Home | Tagged Posts |
| Idaho Steelheads | 2003-Present | Steelheads Home | Tagged Posts |
| Jackson Bandits | 1999-2003 | Bandits Home | Tagged Posts |
| Jacksonville Lizard Kings | 1995-2000 | Lizard Kings Home | Tagged Posts |
| Johnstown Chiefs | 1988-2010 | Chiefs Home | Tagged Posts |
| Kalamazoo Wings | 2009-Present | Wings Home | Tagged Posts |
| Knoxville Cherokees | 1988-1997 | Cherokees Home | Tagged Posts |
| Las Vegas Wranglers | 2003-Present | Wranglers Home | Tagged Posts |
| Lexington Men O' War | 2002-2003 | Men O' War Home | Tagged Posts |
| Long Beach Ice Dogs | 2003-2007 | Ice Dogs Home | Tagged Posts |
| Louisiana IceGators | 1995-2005 | IceGators Home | Tagged Posts |
| Louisville IceHawks | 1990-1994 | IceHawks Home | Tagged Posts |
| Louisville RiverFrogs | 1995-1998 | RiverFrogs Home | Tagged Posts |
| Macon Whoopee | 2001-2002 | Whoopee Home | Tagged Posts |
| Miami Matadors | 1998-1999 | Matadors Home | Tagged Posts |
| Mississippi Sea Wolves | 1996-2005 & 2007-2009 | Sea Wolves Home | Tagged Posts |
| Mobile Mysticks | 1995-2002 | Mysticks Home | Tagged Posts |
| Nashville Knights | 1989-1996 | Knights Home | Tagged Posts |
| New Orleans Brass | 1997-2002 | Brass Home | Tagged Posts |
| Ontario Reign | 2008-Present | Reign Home | Tagged Posts |
| Orlando Solar Bears | 2012-Present | Solar Bears Home | Tagged Posts |
| Pee Dee Pride | 1997-2005 | Pride Home | Tagged Posts |
| Pensacola Ice Pilots | 1996-2008 | Ice Pilots Home | Tagged Posts |
| Peoria Rivermen | 1996-2005 | Rivermen Home | Tagged Posts |
| Phoenix Roadrunners | 2005-2009 | Roadrunners Home | Tagged Posts |
| Raleigh IceCaps | 1991-1998 | IceCaps Home | Tagged Posts |
| Reading Royals | 2001-Present | Royals Home | Tagged Posts |
| Richmond Renegades | 1990-2003 | Renegades Home | Tagged Posts |
| Roanoke Express | 1993-2004 | Express Home | Tagged Posts |
| Roanoke Valley Rampage | 1992-1993 | Rampage Home | Tagged Posts |
| Roanoke Valley Rebels | 1990-1992 | Rebels Home | Tagged Posts |
| San Diego Gulls | 2003-2006 | Gulls Home | Tagged Posts |
| San Francisco Bulls | 2012-Present | Bulls Home | Tagged Posts |
| South Carolina Stingrays | 1993-Present | Stingrays Home | Tagged Posts |
| Stockton Thunder | 2005-Present | Thunder Home | Tagged Posts |
| Tallahassee Tiger Sharks | 1994-2001 | Tiger Sharks Home | Tagged Posts |
| Texas Wildcatters | 2003-2008 | Wildcatters Home | Tagged Posts |
| Toledo Storm | 1991-2007 | Storm Home | Tagged Posts |
| Toledo Walleye | 2009-Present | Walleye Home | Tagged Posts |
| Trenton Devils | 2007-2011 | Devils Home | Tagged Posts |
| Trenton Titans | 1999-2007 & 2011-Present | Titans Home | Tagged Posts |
| Utah Grizzlies | 2005-Present | Grizzlies Home | Tagged Posts |
| Victoria Salmon Kings | 2004-2011 | Salmon Kings Home | Tagged Posts |
| Virginia Lancers | 1988-1990 | Lancers Home | Tagged Posts |
| Wheeling Nailers | 1996-Present | Nailers Home | Tagged Posts |
| Wheeling Thunderbirds | 1992-1996 | Thunderbirds Home | Tagged Posts |
| Winston-Salem Thunderbirds | 1989-1992 | Thunderbirds Home | Tagged Posts |