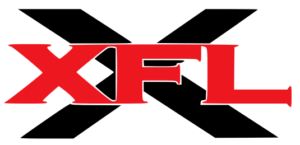 Formed: 2000
Disbanded: May 10, 2001
First Game: February 3, 2001
Last Game: April 21, 2001
Seasons: 1
Franchises: 8
States: 8 (Alabama, California, Florida, Illinois, Nevada, New Jersey, New York, Tennessee)
An infamous $100 million joint venture between Vince McMahon's World Wrestling Entertainment (WWE) and Dick Ebersol's NBC Sports to create a made-for-TV spring football league to appeal to WWE's highly sought after demographic of young males.  In addition to NBC broadcasts, the XFL also had ancillary deals with UPN for a weekly prime time broadcast and the TNN cable network for a Sunday matinee game.
The XFL debuted on February 3, 2001 and the first week's TV rating was a strong 10.3 on NBC.  But the curiosity seekers fled the league quickly and ratings plunged 71% over the next three weeks.  The XFL championship – named the Million Dollar Game because of cash incentives for the winners – earned a 2.5 on April 21, 2001.  XFL telecasts were also among UPN's lowest rated prime time offerings in the spring of 2001.
The caliber of football was second-tier by design, largely indistinguishable from the World League of American Football, the NFL's own failed spring-time football produce from the early 1990's.  Rosters of the eight XFL franchises were made up largely of NFL training camp casualties, Canadian Football League refugees and undrafted free agents.  To the extent that the XFL had any name players, they tended to be NFL 1st round draft busts, such as Tommy Maddox, Jim Druckenmiller, John Avery and the 1994 Heisman Trophy winning running back Rashan Salaam.
One exception was Rod Smart.  Smart was an anonymous, undrafted running back from Western Kentucky University who earned the starting job with the XFL's Las Vegas Outlaws.  The Outlaws happened to be one of the featured teams in NBC's inaugural broadcast on February 3, 2001.  Taking advantage of the XFL's permissive atmosphere, Smart had the slogan "He Hate Me" stitched on the name plate of his jersey instead of his last name. Smart also turned out to be pretty good.  He finished 2nd in the XFL in rushing and became one of the few players to leverage the XFL into a meaningful NFL career, where he played from 2001 to 2005.
Ask people today what they remember about they remember about the XFL, and chances are someone will blurt out "He Hate Me".
League attendance was close to the XFL's original projections at 23,410 announced per game.  But it was TV ratings where the league really took a beating and it was, after all, a made-for-TV league.  NBC pulled out of its two-year commitment after just one season and McMahon's other TV partners wanted to extract concessions to keep the league on the air for a second season.  The XFL officially folded on May 10, 2011.
XFL Franchise List
XFL Shop
ESPN Films 30 For 30: This Is The XFL