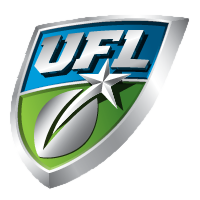 The UFL launched in 2009 with big-budget dreams of establishing a triple-A caliber professional football league with a nationwide footprint.  Since the formation of the United States Football League in 1983, every upstart football league had attempted to compete in the spring, sparing itself head-to-head competition with the NFL and college football.  The UFL played in the fall…and got hammered.  The tiny league (4 teams in 2009 and 2011, 5 teams in 2010) lost a reported $100 million during its first two seasons of play, despite staging only 32 games during that time.
In April 2012, league investors Bill Hambrecht and Bill Mayer declared to the press that the UFL will return for a fourth season in the fall.  The league returned with the same four teams that took part in the 2011 season (Las Vegas, Omaha, Sacramento and Virginia) for a planned eight-game season.  However, players went unpaid, attendance was worse than ever, and the league suspended operations after four weeks and eight games.
Hambrecht claimed the UFL would rise  again in spring 2013 to pick up where the aborted 2012 fall schedule left off.  Nothing further was heard from the UFL and it sailed on into the crowded graveyard of minor league football ventures.
United Football League Franchise List
| Franchise | Years Active | UFL Champions |
| --- | --- | --- |
| California Redwoods | 2009 | None |
| Florida Tuskers | 2009-2010 | None |
| Hartford Colonials | 2010 | None |
| Las Vegas Locomotives | 2009-2012 | 2009-2010-2012 |
| New York Sentinels | 2009 | None |
| Omaha Nighthawks | 2010-2012 | None |
| Sacramento Mountain Lions | 2010-2012 | None |
| Virginia Destroyers | 2011-2012 | 2011 |