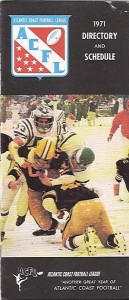 The Atlantic Coast Football League was a minor league loop that stretched, at various times, from northern New England west to New Jersey and as far south as Orlando, Florida. During the late 1960's, many ACFL clubs formed working agreement with NFL and AFL parent clubs.  A small (very small) number of players were able to leverage their ACFL experience into NFL careers, perhaps most notably Pottstown Firebirds tight end Bob Tucker, who led the ACFL in receiving in 1969 before going on to an 11-year career with the New York Giants and Minnesota Vikings.  He was one of the most productive pass-catching NFL tight ends of the 1970's.
The league received national exposure in 1972 when NFL Films showed an hour long documentary on the 1970 Pottstown Firebirds championship season – Pro Football, Pottstown, Pa. – prior to the telecast of Super Bowl VI.  Unfortunately, the league chose to take that season off to re-organize and was unable to capitalize on its fifteen minutes of fame.
The ACFL was active from 1962 to 1971, did not play in 1972, and then staged a final season in 1973 before folding for good.
Atlantic Coast Football League Franchise List
Franchise
Years Active
ACFL Championships
Ansonia Black Knights
1962-1963
None
Atlanta Spartans
1964
None
Atlantic City Senators
1966
None
Baltimore Broncos
1963
None
Boston Steamrollers
1965
None
Boston Sweepers
1963-1964
1964
Bridgeport Jets
1968-1971 & 1973
None
Frankfort Falcons
1962
None
Harrisburg Capitol-Colts
1968-1969
None
Harrisburg Capitols
1963-1967
None
Hartford Charter Oaks
1964
None
Hartford Knights
1968-1971 & 1973
1968
Holyoke Bombers
1965
None
Indianapolis Capitols
1970
None
Jersey Giants
1963-1964
None
Jersey Jays
1970
None
Jersey Jets
1965-1966
None
Jersey Tigers
1969
None
Long Island Bulls
1969-1970
None
Long Island Chiefs
1973
None
Lowell Giants
1966-1968
None
Mohawk Valley Falcons
1963-1965
None
New Bedford Sweepers
1965-1966
1965
New England Colonials
1973
1973
New York Crusaders
1973
None
Newark Bears
1963-1964
1963
Norfolk Neptunes
1970-1971
1971
Orlando Panthers
1970
None
Paterson Miners
1962
1962
Pittsburgh Valley Ironmen
None
Portland Sea Hawks
1962-1964
None
Pottstown Firebirds
1968-1970
1969-1970
Providence Steamrollers
1962-1964
None
Quincy Giants
1969
None
Rhode Island Steelers
1966
None
Richmond Rebels
1964
None
Richmond Roadrunners
1968-1969
None
Richmond Saints
1970
None
Scranton Miners
1965-1966
None
Scranton Pros
1964
None
Springfield Acorns
1963-1964
None
Stamford Golden Bears
1962
None
Virginia Sailors
1966-1968
1966-1967
Waterbury Orbits
1966-1967
None
Westchester Bulls
1967-1968
None
Westchester Crusaders
1963-1964
None
Western Massachusetts Pioneers
1973
None
Wilmington Clippers
1966-1967
None