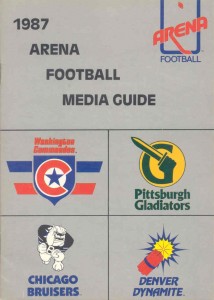 The original Arena Football League was a patented 50-yard indoor football game system developed by a former NFL employee named Jim Foster.  Foster first came up with the idea while watching a Major Indoor Soccer League match at Madison Square Garden in 1981.  It took six years for Foster to fully develop the concept and launch the league in 1987. The first season was modest but Arena Football had an ESPN contract for that first campaign, which helped Foster's strange little league gain a modest measure of national attention.
The league muddled along in fits and starts through the rest of the 1980's and most of the 1990's.  Towards the end of the Nineties a sequence of events came together to raise Arena Football's profile.  In 1998, ABC broadcast Arena Bowl XII to a national broadcast audience on Wide World of Sports.  Two years later, a former grocery store clerk and Arena Football star named Kurt Warner rose from obscurity to win first the St. Louis Rams' quarterback job and then MVP honors in Super Bowl XXXIV.
As the 2000's dawned, Arena Football franchise valuations shot upwards.  Expansion fees increased from $250,000 in 1993 to $16.2 million by 2003.  A national broadcast contract with NBC made the league sexier to speculators, as did the influx of investment from the National Football League.  Eventually six NFL ownership groups would purchase Arena Football franchises in the early 2000's: the Atlanta Falcons, Dallas Cowboys, Denver Broncos, Detroit Lions, New Orleans Saints and Tennessee Titans.
For a time the league gorged on fat expansion fees and trumpeted rising attendance, which helped to paper over large operational losses. But by the mid-2000's, the expansion pipeline began to dry up.  The Lions, Saints and Titans shuttered their Arena League franchises. The bubble burst when the 2009 season was cancelled as league attempted a financial restructuring. The effort failed and the original league closed down and filed for bankruptcy in August 2009.
Throughout the 2000's, the Arena Football League had an affiliated "minor league" known as AF2, which ran lower-budget clubs in small markets like Shreveport, Spokane and Tulsa.  A group of AF2 investors plus a few of the non-NFL investors in the original Arena League banded together to purchase the intellectual property rights to Arena Football from the bankruptcy court for $6.1 million in late 2009.
This group of owners re-launched the Arena Football League in 2010 and claims the records and history of the original 1987-2008 league.  In a few cases, franchise names and owners carried over between the two leagues. But for the most part, the new league is substantially poorer and less disciplined than the original organization.  Today, Arena Football's attendance, sponsorship and media prospects are markedly diminished from where the sport stood a decade ago. In effect, the sport has returned to the "muddling along" status of the early 1990's.
Arena Football League Directory
1987-2008 Franchise List
2010-Present Franchise List
| Franchise | Years Active | Arena Bowl Championships |
| --- | --- | --- |
| Alabama Vipers | 2010 | None |
| Albany | 2018-Present | None |
| Arizona Rattlers | 2010-Present | 2012-2013-2014 |
| Baltimore Brigade | 2017-Present | None |
| Bossier-Shreveport Battle Wings | 2010 | None |
| Chicago Rush | 2010-2013 | None |
| Cleveland Gladiators | 2010-2017 | None |
| Dallas Vigilantes | 2010-2011 | None |
| Georgia Force | 2011-2012 | None |
| Iowa Barnstormers | 2010-2014 | None |
| Jacksonville Sharks | 2010-2016 | 2011 |
| Kansas City Command | 2011-2012 | None |
| Las Vegas Outlaws | 2015 | None |
| Los Angeles Kiss | 2014-2016 | None |
| Milwaukee Iron | 2010 | None |
| Milwaukee Mustangs | 2011-2012 | None |
| New Orleans Voodoo | 2011-2015 | None |
| Orlando Predators | 2010-2016 | None |
| Philadelphia Soul | 2011-Present | 2016-2017 |
| Pittsburgh Power | 2010-2014 | None |
| Portland Steel | 2016 | None |
| Portland Thunder | 2014-2015 | None |
| San Antonio Talons | 2012-2014 | None |
| San Jose Sabercats | 2011-2015 | 2015 |
| Spokane Shock | 2010-2015 | 2010 |
| Tampa Bay Storm | 2010-Present | None |
| Tulsa Talons | 2010-2011 | None |
| Utah Blaze | 2010-2013 | None |
| Washington Valor | 2017-Present | None |