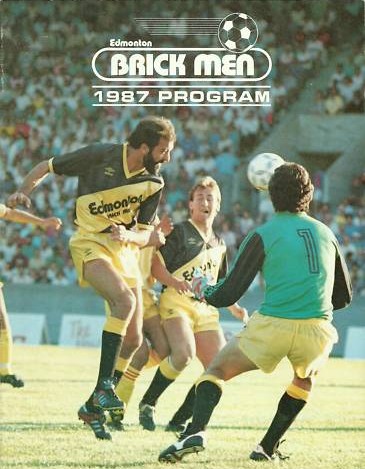 Western Soccer Alliance (1986)
Canadian Soccer League (1987-1990)
Born: 1985
Folded: Postseason 1990
Stadia:
Team Colors:
Owner: Peter Pocklington
Western Soccer Alliance Championships: None
Canadian Soccer League Championships: None
In 1981, five Canadian cities enjoyed major league professional soccer, courtesy of the North American Soccer League. The Calgary Boomers, Edmonton Drillers, Montreal Manic, Toronto Blizzard and Vancouver Whitecaps took the field that summer, and also played fast-paced indoor soccer during the winter months. But by the spring of 1985 it was all gone. The clubs peeled away one by one until the NASL itself closed up shop in early 1985.
In July 1985 a small group of former NASL cities on the West Coast staged the Western Soccer Alliance challenge series. The tournament saw clubs from Portland, San Jose, Seattle and Victoria, British Columbia compete against one another and against the Canadian National Team, touring European clubs and a side from Alberta known as the Edmonton Brickmen. When the Western Soccer Alliance put on a more conventional league season in the summer of 1986, the Brickmen joined as a full-fledged member.
Edmonton Oilers owner Peter Pocklington owned the Brickmen. Pocklington owned the NASL's Edmonton Drillers from 1979 to 1982 and lost millions of dollars on that team. Nevertheless, he would make continued forays into pro soccer in Edmonton in the 1980's and 1990's. Pocklington backed both the Brickmen and a revived indoor-only version of the Drillers in the mid-1990's. Veteran sports exec Mel Kowalchuk, who also ran the city's Edmonton Trappers Class AAA baseball team, headed up the Brickmen front office. Former Driller Ross Ongaro served as head coach.
The Brickmen withdrew from the Western Soccer Alliance in 1987 to join the new Canadian Soccer League. The club was never particularly good. The Brickmen never posted a winning record in four seasons and finished in last place in 1988 and 1990. Edmonton's best showing was in 1989 when the team advanced to the CSL playoff semi-finals. They were blown out 9-3 in a two-leg series by the eventual champion Vancouver 86ers.
The Brickmen folded after the 1990 season.
Edmonton Brickmen Shop
The Puck Talks Here: The Amazing Life & Turbulent Times of Peter Pocklington by Terry McConnell & J'Lyn Nye
(KINDLE Edition)
Edmonton Brickmen Memorabilia
Links
Western Soccer Alliance Programs
Canadian Soccer League Media Guides
Canadian Soccer League Programs
##