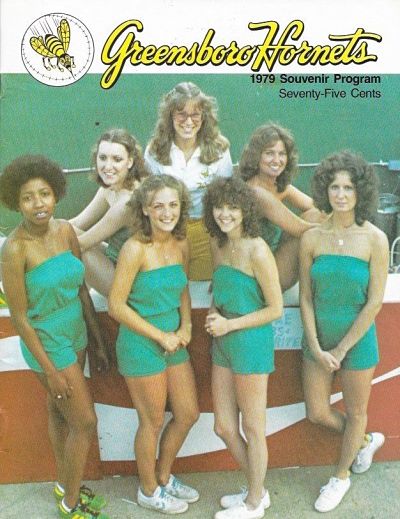 Western Carolinas League (1979)
South Atlantic League (1980-1993)
Born: 1979 – Western Carolinas League expansion franchise
Re-Branded: 1994 (Greensboro Bats)
Stadium: World War Memorial Stadium
Major League Affiliations:
1979: Cincinnati Reds
1980-1984: New York Yankees
1985-1987: Boston Red Sox
1988-1989: Cincinnati Reds
1990-1993: New York Yankees
Owners:
Western Carolinas League Championships: None
South Atlantic League Champions: 1980, 1981 & 1982
The Greensboro Hornets joined the Class A Western Carolinas League in 1979. Larry Schmittou owned the Class AA Nashville Sounds, along with a coterie of country music stars including Conway Twitty, Cal Smith and Richard Sterban of the Oak Ridge Boys. Under Schmittou's management, the Sounds became one of the most popular and financially successful minor league baseball franchises in the country in the late 1970's. Schmittou and his group turned their sights next on Greensboro, purchasing the Hornets as an expansion club for $25,000.
Schmittou, who remained in Nashville, installed Tom Romenesko as General Manager and the duo set out to replicate the Sounds success. The team ran promotions virtually every night in 1979. A Used Car Night drew 8,215 fans to World War Memorial Stadium. A visit by Hall-of-Fame pitcher Bob Feller attracted 5,000. On August 22, 1979, the Hornets broke the stadium attendance record when 12,602 fans showed up for a game.
Change was afoot in 1980. The Western Carolinas League re-branded itself as the South Atlantic League. The New York Yankees replaced the Cincinnati Reds as the Hornets' parent club. The Hornets won the first of three consecutive South Atlantic League titles that summer. A Yankees prospect named Don Mattingly led the circuit with a .358 batting average.
The Hornets Major League affiliation shuffled several times during the rest of the 1980's. Both the Reds and the Yankees would return for second stints in town. Schmittou's group sold the Hornets for a reported $900,000 in 1989 to Raleigh, North Carolina businessman Steve Bryant.
Around the same time, the Hornets got embroiled in legal disputes with the NBA's Charlotte Hornets and their owner George Shinn over the use of the "Hornets" moniker. Bryant appeared to prevail in a legal settlement in 1991 that allowed Greensboro to continue to use the name. Nevertheless, the team re-branded itself in 1994 as the Greensboro Bats.
By the dawn of the 1990's the Yankees were back as Greensboro's Major League sponsor. A teenage Derek Jeter appeared briefly for the Hornets in 1992 and then played the entire summer in Greensboro in 1993. Jeter made an astonishing 56 errors (!) for Greensboro at shortstop in 1993.
The former Hornets franchise remains in Greensboro and continues to play the South Atlantic League. The team moved into a new ballpark in 2005 and is known as the Greensboro Grasshoppers today.
Greensboro Hornets Memorabilia
Links
Western Carolina League Programs
South Atlantic League Media Guides
South Atlantic League Programs
##