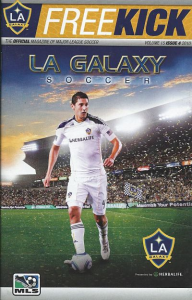 Los Angeles Galaxy vs. Puerto Rico Islanders
CONCACAF Champions League Preliminary Round First Leg
July 27, 2010
Home Depot Center
Attendance: 6,783
Major League Soccer Programs
72 pages
Stunning upset on the opening day of the 2010-11 CONCACAF Champions League competition at the Home Depot Center in Carson, California.  The host Los Angeles Galaxy had one of their finest sides in years in 2010 and had the best record in Major League Soccer.  They were also one of two MLS clubs (along with D.C. United) to ever win the CONCACAF, the most important club competition in North America.
On paper, Puerto Rico Islanders (2004-2012), a now defunct 2nd Division club, were seemingly one of the weaker entrants in the 24-team competition.  The Islanders got into the CONCACAF by virtue of winning the Caribbean Football Union Cup in 2010, but the Islanders sat in 11th place in the 12-team USSF D2 Pro League on the day they flew to Los Angeles for the first leg of the two-match preliminary round against the Galaxy.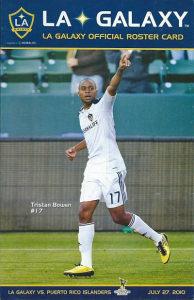 A 4-1 result wouldn't have surprised anyone, but certainly not in favor of the Islanders.  The Puerto Ricans kept Galaxy goalkeeper Josh Saunders under siege throughout the match.  English forward David Foley opened the scoring for the visitors in the 26th minute.  Jamaican Nicolas Adderly also pumped in two goals for the Islanders and Josh Hansen, a former Galaxy reservist, added the fourth.  Puerto Rico gifted an own goal to the Galaxy in the 83rd minute, but the Galaxy still faced a 3-goal deficit heading into the second leg in Puerto Rico one week later.
The Galaxy won the 2nd leg in Bayamon on August 4th.  But their 2-1 margin of victory wasn't enough to make up for the blowout at Home Depot Center.  The Galaxy were out and the Islanders advanced on aggregate goals 5-3.
The Islanders would bow out on CONCACAF in the Group Stage in October.  But the team did make an unlikely late run in the 2nd Division, moving up to grab the 8th and final playoff seed.  In succession, they knocked off the top-seeded Rochester Rhinos, the Vancouver Whitecaps and, finally, the 2nd-seed Carolina Railhawks to win the 2nd Division championship.
At the end of 2012 the Islanders went on hiatus due to financial difficulties.  The club hoped to return to 2nd Division status, but as 2014 dawns, the club has now been dark for nearly two years with no return date set.
==YouTube==
==Downloads==
July 27, 2010 Los Angeles Galaxy vs. Puerto Rico Islanders Roster Card
###