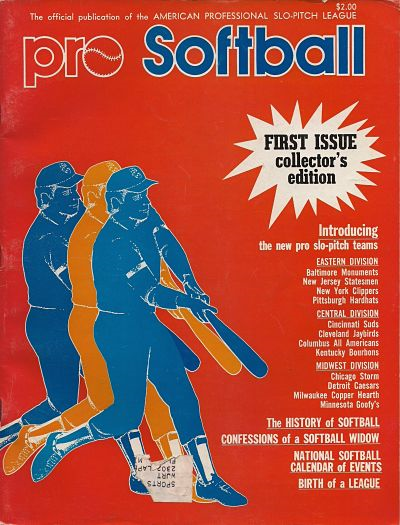 American Professional Slo-Pitch League (1977-1980)
United Professional Softball League (1981-1982)
Born: 1977 – APSPL founding franchise.
Folded: 1983
Stadiums:
Team Colors:
Owners: Jim DiLorio and Josephine DiLorio
APSPL Championships: None
UPSL Championships: None
The Pittsburgh Hardhats softball team played for six seasons during the short-lived Pro era of men's slo-pitch softball.  The Hardhats competed in the first men's pro league – the American Professional Slo-Pitch League – and, later, in its the APSPL's successor league, the United Professional Softball League.
The Hardhats were a mom-and-pop operation funded by Jim & Josephine DiLorio, proprietors of Jim's Sports Shop in Edgewood, Pennsylvania.  In practice, the Hardhats were really more of a semi-pro operation.  Hardhats players earned a few hundred dollars to play, but had to hold down other jobs during the season.  As a result, all league games were played only on weekends, typically as doubleheaders.
After three seasons, the team had lost a reported $100,000, but the DiLorio's kept the club going, even in the face of new competition that arrived in 1980.  In June 1979, Ted Stepien, the President of the APSPL and owner of the league's Cleveland franchise, got into a snit with other league owners.  He split off to form his own rival league in 1980 called the North American Softball League.  Stepien struggled to find partners for his rebel league and ended up owning most of the teams himself, including the newly formed Pittsburgh Champions who tried to loot the Hardhats roster of players.  Stepien and the DiLorio's wound up in court over the matter.
Ultimately both Pittsburgh teams took the field in 1980.  The Hardhats were one of the best teams in the APSPL and advanced to the league's championship series, where they lost to the Rochester Express 5 games to 4.  Stepien's Pittsburgh Champions team finished last in their division and folded along with the rest of the North American Softball League at the end of 1980.
The Hardhats played two more seasons in the United Professional Softball League in 1981 and 1982.  The team changed stadiums frequently and never really developed much of a following, attracting only a few hundred fans per game in the early 1980's.
The UPSL went dark in 1983 and attempted to re-organize for a return to play in 1984.  But the league was never heard from again and the Pittsburgh Hardhats went down with the ship.
Downloads
1979 American Professional Slo-Pitch League Franchise Sales Brochure
Links
Men's Pro Softball Media Guides
###