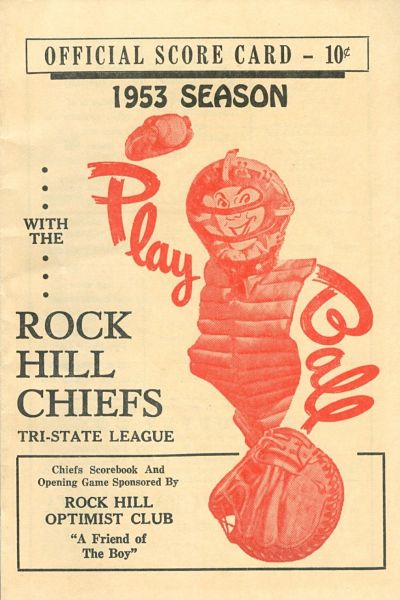 Tri-State League (1947-1955)
Born: 1947
Folded: 1955
Stadium: Municipal Stadium
Major League Affiliations:
1947-1949: None
1950-1951: Chicago Cubs
1952-1953: None
1954-1955: Washington Senators
Owners:
Tri-State League Champions: 1950
The Rock Hill Chiefs played in the Class B Tri-State League for eight seasons from 1947 until 1955. The Tri-State League featured teams from North Carolina, South Carolina and Tennessee.
The Chiefs won the Tri-State League crown in 1950, besting the Asheville Tourists 4 games to 3 in a best-of-seven series.
By 1955 the Tri-State League was on its last legs. The circuit started the season with just four clubs in the Carolinas: Asheville, Greenville, Rock Hill and Spartanburg. The Chiefs themselves were in severe financial straits. The club held several emergency fund drives to meet payroll. During one game in August 1955, the penniless team simply left ticket booths unmanned and left buckets around Municipal Stadium for fans to make donations. The Chiefs and the Tri-State League both closed up shop at the end of the 1955 season.
Pro baseball returned to Rock Hill eight years with the formation of a Western Carolinas League franchise that played from 1963-1968.
##