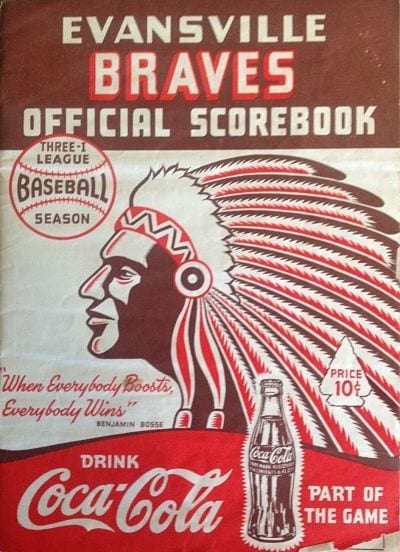 Illinois-Indiana-Iowa League (1946-1957)
Born: 1946
Died: 1957
Stadium: Bosse Field
Team Colors:
Owner:
Three-I League Champions: 1946, 1948, 1956 and 1957
The Evansville Braves were a Class B farm club of the Boston and Milwaukee Braves from 1946 until 1957.  Evansville won four Three-I League titles during the 12-year Braves era and helped to developed future Major Leaguers such as Wes Covington (Evansivlle '53), Lee Maye ('55-'56) and Bob Uecker ('57).
The Braves rented Bosse Field from the Evansville  school department. Late in the 1957 season, a group of engineers deemed the ballpark's grandstand unsafe in a report to the school board. The team used temporary bleachers for late season games in 1957 and left town after the season ended with Evansville's fourth and final Three-I League crown.
Pro baseball returned to Evansville and Bosse Field with the arrival of the Evansville White Sox in 1966.
==Links==
###