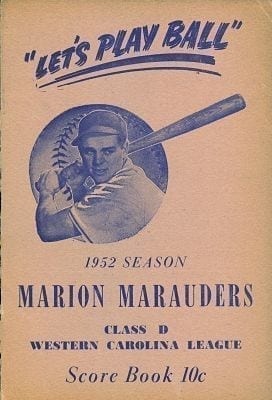 Western Carolina League (1948-1952)
Tar Heel League (1953-1954)
Born: 1948
Folded: June 21, 1954
Stadium:
Major League Affiliation:
Owners:
Western Carolina League Championships: None
Tar Heel League Championships:
The Marion Marauders were a Class D minor league baseball club in the small North Carolina of Marion. The mill town on the edge of the Blue Ridge Mountains had a U.S. Census population of fewer than 3,000 residents in 1950. The town is best known as the site of a deadly 1929 textile mill strike that saw six striking mill workers gunned down by law enforcement. The Marauders' seven-year run from 1948 to 1954 marked the only time pro baseball was played in Marion.
The Marauders started out as a founding franchise in the Western Carolina League in 1948. Marion's player-manager that first summer was Major League vet Wes Ferrell.  Ferrell pitched for parts of 15 seasons in the Majors from 1927 to 1941 but primarily played in the outfield for the Marauders. Ferrell departed following the 1940 season.
In 1953 the Western Carolina League merged with the North Carolina State League to form the Tar Heel League. The Marauders were the class of the circuit that summer, thanks largely to a 29-year old journeyman pitcher named Kelly Jack Swift. Swift posted a 30-7 record. Some six decades later, Swift remains the last minor league pitcher to win 30 games in a season.
The Tar Heel League began the 1953 season with 10 clubs. By opening day of 1954, the loop was down to just four ball clubs and the end was near. The league gave up the ghost on June 21, 1954 with the Marauders sitting in 2nd place with a 26-26 record.
Links
"The Invisible Fastball", Chris Ballard, Sports Illustrated, October 17, 2011 (The story of Kelly Jack Swift)
##