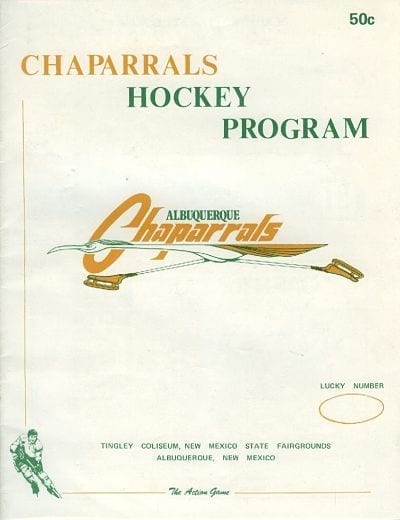 Southwest Hockey League (1975-1977)
Born: 1975 – SWHL founding franchise
Folded: January 25, 1977
Arena: Tingley Coliseum
Team Colors:
Owners: 
The Albuquerque Chaparrals were a senior amateur hockey team that skated for one-and-a-half chaotic seasons during the mid-1970's.  The Chaparrals were founded by the controversial Las Vegas construction baron, casino owner and Nazi party enthusiast Ralph Englestad and his brother Richard in 1975.
The Engelstads launched the Southwest Hockey League from their headquarters in Las Vegas, where Ralph owned the Flamingo Capri Motel and Casino. The concept of the SWHL was that players would attend college or vocational school while competing in the league's 72-game winter schedule. Since the players were amateur, they did not draw salaries.  Team owners were expected to provide room and board, pay for players' tuition and books, and a small weekly expense stipend. SWHL franchises formed in Arizona, Montana, Nevada, New Mexico, North Dakota and Texas.
The Chaparrals finished in 2nd place in the SWHL with a 39-32-1 during their debut run in 1975-76. Following the season, the Engelstads sold the Chaparrals to E.W. McIntrye for a reported $100,000.
Financial troubles doomed the SWHL during its second season. Six teams started the season, but clubs in Bismarck and Minot swiftly went under.
Albuquerque had problems too. In December 1976, the team organized a promotion with a man named George Hartnett (identified by The Albuquerque Journal as "a hot air balloon promoter"). Hartnett would attempt to sell five thousand $1.00 tickets to a Chaps home date at the Tingley Coliseum on December 10, 1976. Gate receipts would pay for travel home for the Christmas holidays for the Chaps players, many of whom hailed from the Western provinces of Canada. The promotion flopped and General Manager Leo Zani declined to give any of the money raised to the players. Chaparrals coach Bob Gernander and 12 of his players resigned from the team in protest.
The team re-organized and soldiered on under new head coach Cal Swenson. But by the end of January 1977 the SWHL's remaining four clubs decided to call it quits, cancelling the final 30 or so games of the 1976-77 season.
##