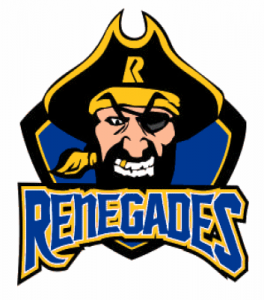 Southern Professional Hockey League (2006-2009)
Born: April 25, 2006 – SPHL expansion franchise.
Folded: March 26, 2009
Arena: Richmond Coliseum
Team Colors: Royal Blue & Gold
Owner: Allan Harvie et al.
The 2006-2009 edition of the Richmond Renegades was a re-boot of the city's former East Coast Hockey League (ECHL) Renegades franchise, which played from 1990-2003.  The new Renegades played in the Southern Professional Hockey League, a low-level professional loop with franchises in Alabama, Florida, Georgia, North Carolina, South Carolina, Tennessee and Virginia.  The lower-budget SPHL placed teams in numerous Southeastern cities where ECHL franchises had previously failed. Renegades owner Allan Harvie was also the founder of the original Renegades franchise in the ECHL in 1990.
The Renegades came into the Richmond Coliseum on the heels of the departing Richmond RiverDogs of the United Hockey League, who left town at the end of the 2005-06 season to move to Chicago.
During the Renegades first season in 2006-07, the team was coached by 73-year old minor league hockey legend John Brophy.  Brophy was reportedly the model for Paul Newman's Reggie Dunlap character in the movie Slap Shot.  Brophy coached the Renegades for one season and this appears to have been the final coaching post of his one-of-a-kind career (Brophy is now 80 years old).  He finished with 1,027 coaching wins at all levels from the low level minors to the World Hockey Association and the National Hockey League.  Brophy's win total ranks second all-time in the professional ranks to the great Scotty Bowman.
The Renegades claimed average attendance of between 3,000 and 4,000 fans per season over three years from 2006 to 2009.  In March 2009, founder Allan Harvie announced the team would shut down after three seasons due to lagging sponsorship and ticket sales and lack of interest from new investors.
###