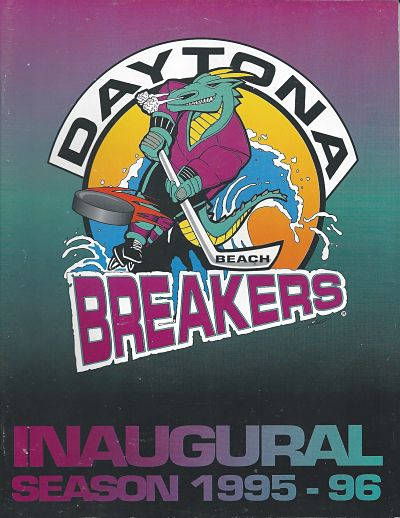 Southern Hockey League (1995-1996)
Born: June 1995 – The Daytona Beach Sun Devils rebrand as the Breakers.
Folded: July 16, 1996
Arena: Ocean Center (6,500)
Team Colors: Purple, Black & Jade
Owner: William Collins III
From the Fun While It Lasted One-Year Wonder files, here are the Daytona Beach Breakers and the 1995-96 Southern Hockey League.  Both organizations lasted just one season before folding.
The origins of the Breakers were in a downtrodden minor hockey club known as the Daytona Beach Sun Devils (1992-1995) which played in the low-level Sunshine Hockey League.  1990's serial sports investor William Collins, III purchased the Sun Devils in January 1995 as the Sunshine league was limping through its final season.  At the time Collins also owned the Tampa Bay Terror indoor soccer team, minor league baseball teams in Michigan and North Carolina, and was working on a quixotic effort to bring Major League Baseball to Northern Virginia.
Collins re-branded the Sun Devils as the Daytona Beach Breakers in June 1995 and entered the team into the new Southern Hockey League, which featured six clubs in total, including several other Sunshine League refugees.  SHL franchises were located in Alabama, Florida and North Carolina.
The Breakers hired for NHL winger Walt Poddubny to coach the Breakers in August 1995.  Poddubny had finished up a player-coach stint a few weeks earlier for the Orlando Rollergators of Roller Hockey International in nearby Orlando a few weeks earlier.  Under Poddubny, the Breakers finished the 1995-96 regular season in 2nd place with a 33-20-7 record before losing to the Winston-Salem Mammoths in the first round of the playoffs.
The Breakers struggled at the box office, drawing just over 1,400 fans per game at the Ocean Center.  The Breakers also struggled to get prime dates in the venue due to Bike Week and Speed Week events that occupied the building for large portions of January, February and March.  Attendance was weak across the league, as five of the six Southern Hockey League clubs drew fewer than 1,500 patrons per game.
The SHL imploded during the summer of 1996 and the Daytona Beach Breakers folded along with the rest of the circuit.
==Downloads==
Daytona Beach Breakers Season Ticket Brochure for cancelled 1996-97 season
==Links==
1995-96 Daytona Beach Breakers statistics on HockeyDB.com
###