Southern Association (1912-1960)
Born: 1912 – Name change from Memphis Egyptians
Folded: Postseason 1960.
Stadium: Russwood Park (10,514 in 1960)
Team Colors:
Owners:
The original Memphis Chicks (AKA Chickasaws) played in the Southern Association from 1912 to 1960.  The Southern Association was one of the most stable minor leagues in America during the first half of the 20th century.  Like the Chicks themselves, many of Memphis' league rivals – such as the Atlanta Crackers, Birmingham Barons and Nashville Volunteers – endured for decades.
Key figures that came through Memphis during the Southern Association era included future Hall-of-Famers Luis Aparicio (1955) and Luke Appling, who had a couple of stints managing the ball club during the 1950's.  Native son Tim McCarver played for the Chicks during their final season in 1960.  Then there was Pete Gray.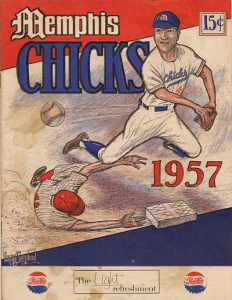 Gray lost his right (dominant) arm when he was thrown from a truck at age 6.  Nevertheless, he thrived as outfielder for the Chicks in 1943 and 1944.  In 1944, Gray batted .333, hit 5 home runs and stole 68 bases.  He was named Southern Association MVP that summer and made his Major League debut with the St. Louis Browns the following season.
Chicks popularity surged after World War II, peaking in the summer of 1948 when 361,174 fans watched the team at Russwood Park.  But interest dropped precipitously in the 1950's.  In 1959, total attendance dipped beneath the 50,000 mark.
In 1960, the Chicks inked a new affiliation with the St. Louis Cardinals, which brought star prospects like McCarver andMike Shannonto the Bluff City.  But an Easter Sunday inferno destroyed Russwood Park on April 17th, 1960.  The Chicago White Sox and Cleveland Indians had just played an exhibition game at the park earlier in the day.  The Chicks had to play the 1960 season at temporary facilities.
Memphis was forced to withdraw from the Southern Association in late 1960 due to the loss of Russwood Park.  The league itself folded one year later.
Memphis went without pro baseball for eight years until the Memphis Blues of the Texas League arrived in 1968.  In 1978, Memphis got a new franchise in the Class AA Southern League and new owner Avron Fogelman revived the "Chicks" name for the new club.  The new Chicks played from 1978 to 1997.
==Links==
##