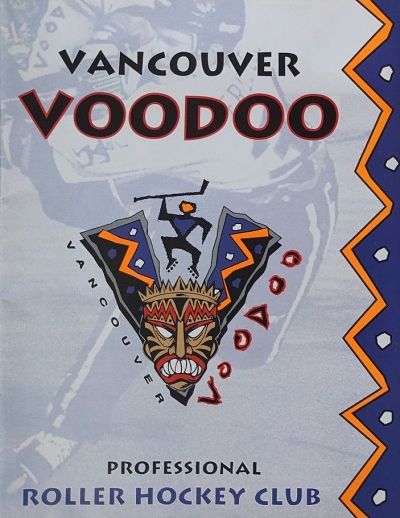 Roller Hockey International (1993-1996)
Born: 1993 – RHI founding franchise
Folded: December 18, 1996
Arenas:
Team Colors:
Owners: 
Murphy Cup Championships: None
The Vancouver Voodoo were a modestly popular novelty hockey outfit during the mid-1990's. The Voodoo were one of 12 original franchises in Roller Hockey International in 1993. RHI was an attempt to capitalize on the recreational in-line skating boom of the era. Teams played on a Sport Court surface layed down over the concrete sub-flooring of NBA and NHL arenas. The league gained exposure from a national cable television contract with ESPN that ran from 1993 until 1996.
Most Roller Hockey International players were minor league hockey players moonlighting during their summer off-season. A handful of retired NHL stars, such as Bryan Trottier and Ron Duguay, played in the league. The Voodoo featured former Canuck Jose Charbonneau, who led RHI in scoring during the league's debut season in 1993.  Charbonneau used his Roller Hockey showcase to earn a new contract in the NHL with the Canucks. Bruising Vancouver native Sasha Lakovic also wet on to play in the NHL after playing for the Voodoo.
The Voodoo were founded by former Vancouver Canucks enforcer Tiger Williams and Mike King. Williams was (and still as, as of 2017) the NHL's all-time leading in penalty minutes. In April 1996, Orca Bay Sports & Entertainment, parent company of the Canucks and the NBA's Vancouver Grizzlies, purchased the Voodoo. The Voodoo moved into the brand-new General Motors Place for the summer 1996 campaign. But Orca Bay changed hands in November 1996. New owner John McCaw folded the Roller Hockey franchise in December 1996, just eight months after Orca Bay acquired the team.
The Voodoo won the division for all four seasons of their existence. The team under-performed in the postseason though and never made it past the second round of the playoffs.
Vancouver Voodoo Shop
Wheelers, Dealers, Pucks & Bucks: A Rocking History of Roller Hockey Interational. Richard Neil Graham
Voodoo Video
Voodoo vs. the San Jose Rhinos at San Jose Arena from a 1994 ESPN broadcast.
In Memoriam
Sasha Lakovic (Voodoo '93-'94) died from brain cancer on April 25, 2017 at the age of 45. CBC News obituary.
Links
Roller Hockey International Media Guides
Roller Hockey International Programs
##