Continental Indoor Soccer League (1993-1997)
Premier Soccer Alliance (1998)
World Indoor Soccer League (1999-2001)
Born: July 7, 1992 – CISL founding franchise.
Folded: 2001
Arena: ARCO Arena (10,630)
Team Colors: Black, Silver, Orange & Blue
Owners:
The Sacramento Knights were an indoor soccer team that played for nearly a decade under the management of successive ownership groups of the NBA's Sacramento Kings franchise.  The basic details of this club are mostly indistinguishable from hundreds of other defunct teams here on FWIL – team forms, muddles along in obscurity for several years and then is quietly euthanized.  So before running through those mundane details, I'll just tell you the strangest thing in the Knights file:
Ex-Knights General Manager Hubert Rotteveel, once a member of UCLA's 1985 national champion soccer team, became a bank robber after the demise of the Knights.  And not a great one.  On June 30, 2010, a bike helmet and spandex-clad Rotteveel robbed two Sacramento area banks with a BB gun.  He was caught cycling away from the second bank when the dye pack in his loot exploded in front of a patrol car.  Rotteveel, by most accounts a well-liked and respected executive during his soccer years, is eligible for release in 2014, but still faces additional fraud charges related his former real estate business.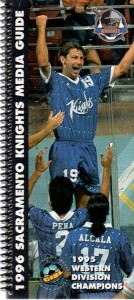 ANYWAY … What happened to the Knights?  Original owner Jim Thomas purchased the club as a founding member of the Continental Indoor Soccer League in September 1992, a few months after he acquired control of the Kings.  The CISL, which existed from 1993 until 1997, initially attracted a number of NBA ownership groups besides Thomas and the Kings, but enthusiasm for the league and the sport of indoor soccer declined in the mid-1990's.  NBA owners began to look to the new WNBA to fill summer dates in their arenas instead.  In addition to the Knights, the Sacramento Kings ownership also operated the WNBA's Sacramento Monarchs during the summer months. Coincidentally or not, the debut season of the WNBA in 1997 also proved to be the final year for the CISL, which folded in December 1997.
The Knights did play on, however, joining several other CISL refuges in pair of lower-profile successor leagues starting in 1998.
When Thomas sold controlling interest in the Kings to Maloof Sports & Entertainment in 1999, the Knights were thrown in with the deal.  The Maloofs operated the Knights for three more seasons through 2001 before folding the team.
The Knights won the championship of the World Indoor Soccer League (WISL) in 1999.  They also appeared in the championship series – but lost – for the CISL in 1995 and the Premier Soccer Alliance in 1998.
==Sacramento Knights Programs on Fun While It Lasted==
Season
Date
Opponent
Score
Program
Other

1994

1994
6/16/1994
vs. San Jose Grizzlies
 ??
Program
==In Memoriam==
Former Knights Head Coach Keith Weller (1994-1997) died of cancer on November 12, 2004 at age 58.
==Links==
Continental Indoor Soccer League Media Guides
Continental Indoor Soccer League Programs
##