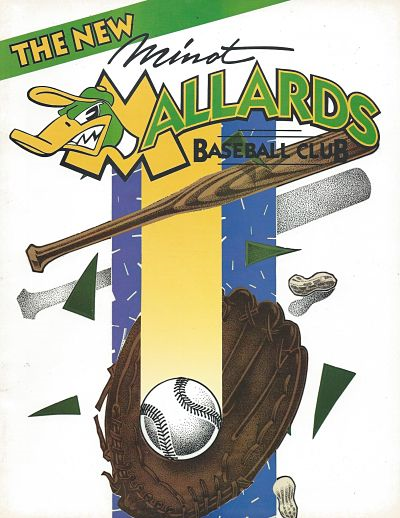 Prairie League (1995-1997)
Born: 1995
Folded: Postseason 1997
Stadium: Corbett Field
Team Colors:
Owners: Don Ziegler & Sharon Ziegler
The Minot Mallards were a low-level pro baseball team that played three summers at tiny Corbett Field in Minot, North Dakota during the mid-1990's.  The Mallards name was a tribute to the old Minot Mallards of the Class C Northern League who played from 1958 to 1962.
The new Mallards were part of the independent (no Major League affiliation) Prairie League, which featured teams in the Dakotas, Minnesota, Wisconsin and the Canadian provinces of Manitoba and Saskatchewan.
During the 1996 season, the Mallards featured a pair of former Major League journeymen on the roster.  40-year old outfielder Darrell Brown last played in the Bigs twelve years earlier for the Minnesota Twins.  36-year old infielder Brian Giles had a journeyman career with the Mets and a few other teams in the early-mid 80's.
Former Oakland A's and San Diego Padres first basemen Rob Nelson played for Minot in 1995.  Aside from Brown, Giles and Nelson, no other Mallards players ever played a Major League game.
The Minot Mallards and the Prairie League both folded after the 1997 season.
##