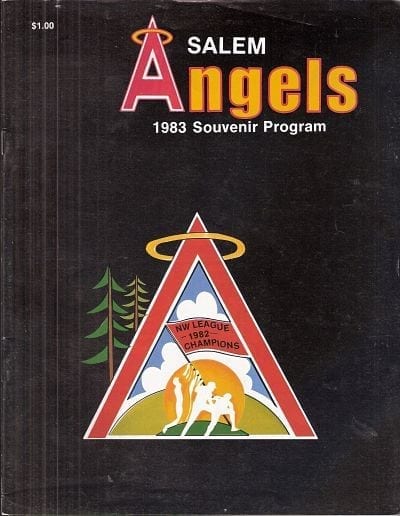 Northwest League (1982-1987)
Born: 1982 – Affiliation change from Salem Senators
Affiliation Change: 1988 (Salem Dodgers)
Stadium: Chemeketa Field
Team Colors:
Owners: Clint Holland, et al.
Northwest League Champions: 1982
The Salem Angels were an Oregon-based short-season Class A affiliate of the California Angels during the mid-1980's. During Salem's first season as an Angels' affiliate, the club won the Northwest League championship. This despite finishing the regular season with a losing record of 34-36.
Notable players included Kirk McCaskill (Salem '82), Mark McLemore (Salem '82), Dante Bichette (Salem '84) and Chuck Finley (Salem '85).
Local stockbroker Clint Holland operated the Angels as a mom-and-pop operation, serving as co-owner, team President and General Manager. The Angels played on the campus of Chemeketa Community College.
"Our attendance was steady all the way through," Holland told The Salem Statesman-Journal for a 1996 retrospective. "We operated just barely in the black. Our problem was, we kept putting money into the bathrooms, lights."
Following the 1987 season, Holland sold the Angels to serial minor league investor David Elmore. The team's Major League affiliation changed at the same time, with the Los Angeles Dodgers replacing the Angels for the 1988 season. After two more seasons as the Salem Dodgers, the franchise left town for Yakima, Washington in 1990.
Links
##