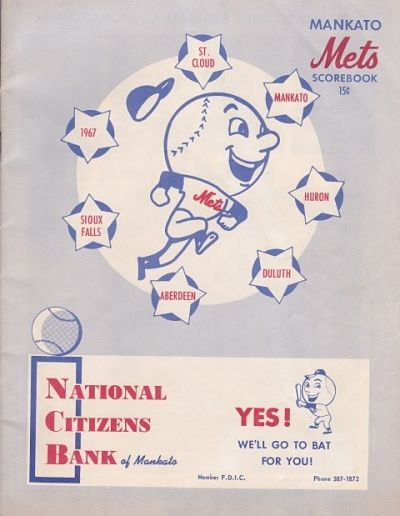 Northern League (1967-1968)
Born: 1967
Folded:  August 1968 – The Mets cancel their affiliation with Mankato.
Stadium: Key City Park
Team Colors:
Owner: Mankato Area Baseball Corp. (Fritz Taylor, et al.)
A short-lived Class A farm club of the New York Mets that lasted for just two seasons in the small city of Mankato, Minnesota.  Mankato was the second rung on New York's developmental ladder, just above their rookie level Appalachian League club in Marion, Virginia.  Most of Mankato's players were young prospects in their late teens or early twenties.
During the 1968 Northern League season, Mankato drew only "150 to 250 fans per game", according to United Press International.  In August 1968, Mets minor league director Joe McDonald informed Mankato President Fritz Taylor that New York would not renew their affiliation agreement with Mankato after the 1968 season ended on Labor Day weekend.  This brought the short history of pro baseball in Mankato to an end after two summers of play.
5 members of the Mankato Mets went on to see Major League service time.  The players who enjoyed the most significant Major League careers were pitchers Ernie McAnally, who won 11 games as a rookie for the Montreal Expos in 1971, and Charlie Williams, who pitched in 268 Major League games from 1971 to 1978, mostly with the San Francisco Giants.
Key City Park still stands and is known today as Franklin Rogers Park.  The 1,400-seat ballpark has hosted amateur wooden bat league baseball in the Northwoods League since 1999.
==In Memoriam==
Mankato Mets President Fritz Taylor passed away on April 1, 2007 at age 90.
==Links==
##