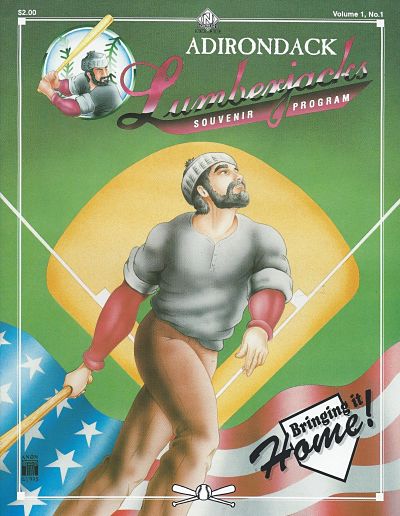 Northeast League (1995-1998)
Northern League (1999-2002)
Born: 1995 – Northeast League founding franchise
Moved: October 2002 (Bangor Lumberjacks)
Stadium: East Field Stadium
Major League Affiliation: Independent
Team Colors: 
Hunter Green & Deep Burgundy (1995)
Hunter Green & Black (1999)
Owners: 
Northeast League Champions: 1995
Northern League Champions: 2000
The Adirondack Lumberjacks were an independent baseball team based out of Glens Falls, New York from 1995 until 2002. Glens Falls hosted Class AA minor league farm clubs of the Chicago White Sox and Detroit Tigers from 1980 until 1988, plus a Class A St. Louis Cardinals farm team in 1993. But by the mid-1990's the city's East Field no longer met modern standards for affiliated Minor League Baseball. Glens Falls was a classic example of a community left behind by the minor league stadium boom of the 1990's. Like many such communities, it turned to independent ball to fill the void.
The 'Jacks were founding members of the Northeast League, which included ball clubs from New York, New Jersey, Pennsylvania and the New England States. In 1999, the Northeast League entered into a merger with the Northern League, an indy circuit in the Upper Midwest. From 1999 through 2002, the former Northeast League clubs played as "Northern League East" and met with Northern League Central's best team for the overall league championship.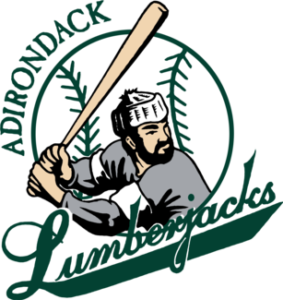 Adirondack defeated the Albany-Colonie Diamonds Dogs to win the first championship of the Northeast League in 1995. In 2000, the Lumberjacks swept the Duluth-Superior Dukes in three games to win the Northern League title. A crowd of 3,182 turned out to East Field to watch the decisive game on September 18, 2000.
One of the key figures in the Lumberjacks era was pitcher-manager Les Lancaster. Lancaster pitched in the Majors from 1987 until 1993, primarily as a reliever for the Chicago Cubs. He appeared in the 1989 NLCS with Chicago. He arrived in Glens Falls in 1998 as 36-year old player-pitching coach. By the end of the year, he was appointed the team's manager. He was a regular in Adirondack's starting rotation in 1999, but devoted himself mostly to managing in 2000. During the 2000 championship series against Duluth-Superior, Lancaster activated himself to the roster and pitched a shutout in Game 2.
In late 2002, the team was sold to new ownership and moved to Bangor, Maine. Owner Charles Jacey cited the small size of the Glens Falls market (approx. 60,000 people) as the decisive factor in giving up on the team. The Bangor Lumberjacks played two more seasons and then went out of business in April 2005. Professional baseball has never returned to Glens Falls since the departure of the Lumberjacks.
Adirondack Lumberjacks Memorabilia
Downloads
June 17, 1995 Adirondack Lumberjacks vs. Yonkers Hoot Owls Game Notes
Links
##