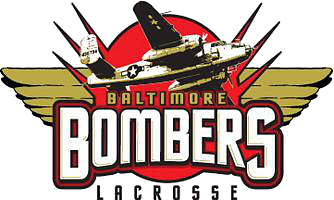 North American Lacrosse League (2013)
Born: August 2012 – NALL expansion franchise.
Folded: March 8, 2013
Arena: Du Burns Arena
Team Colors:
Owner: Hunter Francis
NALL Championships: None
The Baltimore Bombers were a doomed entry in the low-rent North American Lacrosse League (2012-2013), which briefly existed as a destination of last resort for box lacrosse players looking for winter-time employment outside of the big-budget National Lacrosse League.  Its unlikely that many Baltimore residents were aware of the Bombers, who existed for only two months at tiny Du Burns Arena, a 650-seat venue that also hosted a women's roller derby team and meetings of a local Christian Church.
The Bombers lasted only seven games in the NALL, a four-team league which also featured teams in Kentucky, Rhode Island and suburban Boston.  The league fell apart pretty quickly and the Bombers shut down after playing only seven games, folding with a 4-3 record on March 8, 2013.  The NALL itself folded later that spring.
Bombers Video
Bombers vs. Rhode Island Kingfish at Du Burns Arena, winter 2013.
###