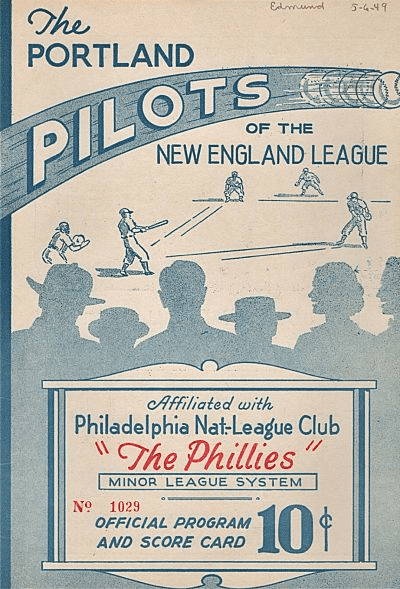 New England League (1947-1949)
Down East League (1950)
Born: 1947
Died: 1949 – The New England League ceases operations.
Stadium: Portland Stadium
Owners: Sam Aceto, Herbert Curry, et al.
The Portland Pilots were a Class B minor league baseball team in the New England League for three summers from 1947 to 1949.  The club started out as the woeful last place Portland Gulls during the first season of New England League in 1946.  Gulls owner John J. Haley ran out of money to pay his players late in the 1946 season and was ordered by League President Claude Davidson to find a buyer.
The Gulls were bailed out by local contractor Sam Aceto, sign shop owner Herbert Curry and hotelier William Richard in August 1946 which allowed the team to complete the season.  Prior to the 1947 season, the first full campaign under Aceto's leadership, the team was renamed the Portland Pilots.
Maine native and former Major League Del Bissonette was the Pilots' skipper in 1947 and 1948.  Bissonette briefly managed the Boston Braves of the National League at the tail end of the 1945 season.  In 1949 former Boston Red Sox infielder Skeeter Newsome took over as a 38-year old player-manager.
During the 1948 and 1949 seasons the Pilots were a farm club of the Philadelphia Phillies.  In 1949, the New England League started out with eight clubs, but Fall River, Lynn, Manchester and Providence went out of business during the summer, leaving just Portland three other clubs to complete the season.  Portland won the league playoffs in 1949 defeating the Springfield Cubs in the finals.
After the season the New England League folded.  The Pilots played one final season as a semi-pro team in the all-Maine Down East League in the summer of 1950 before vanishing for good.
After the New England League folded, pro baseball didn't return to Portland, Maine until the formation of the Class AA Portland Sea Dogs in 1994.
==Links==
###