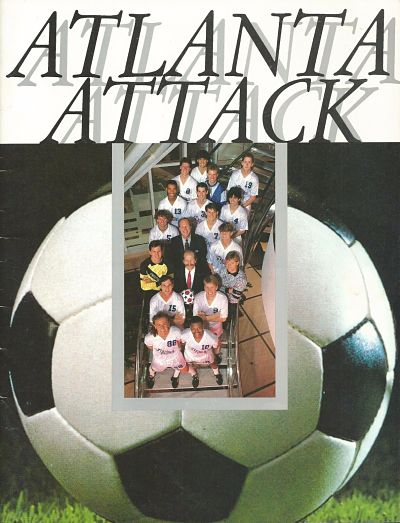 American Indoor Soccer Association (1989-1990)
National Professional Soccer League (1990-1991)
Born: August 1989 – AISA expansion franchise
Moved: September 4, 1991 (Kansas City Attack)
Arena: The Omni
Team Colors:
Owner: Ron Terwilliger
AISA Championships: None
NPSL Championships: None
Short-lived effort to establish the sport of indoor soccer at Atlanta's Omni coliseum. The Atlanta Attack followed the earlier efforts of the Atlanta Chiefs of the North American Soccer League, who played two indoor campaigns at the Omni between 1979 and 1981.
The Attack formed as an expansion franchise in the five-year old American Indoor Soccer Association. Bt 1989, the AISA was starting to stretch its ambitions beyond 5,000-seater civic centers in the Upper Midwest. Attack founder Ron Terwilliger, one of the league's wealthiest owners, was also offered a franchise in the larger budget Major Indoor Soccer League. And the Omni was more typical of the MISL, whose clubs often played in NBA and NHL arenas. But the housing developer was reportedly put off by the MISL's much higher salary cap.
Croatian forward Drago Dumbovic was expected to be the Attack's top scoring threat in 1989-90. But after a hot start, Atlanta traded Drago to the Hershey Impact two months into the season in January 1990. Drago went on to lead the AISA in scoring with 100 goals and 67 assists, most coming with Hershey. Despite trading away the league's most explosive player, the Attack finished their expansion campaign with a respectable 2nd place finish in their division at 23-17. The Dayton Dynamo eliminated the Attack in the playoff semi-finals.
Heading into the 1990-91 season, the AISA re-branded itself as the National Professional Soccer League (NPSL). The Attack fielded another strong side, finishing 25-15. Journeyman Yugoslav forward Zoran Savic led the Attack with 56 goals and 33 assists. Once again, the Dayton Dynamo bounced Atlanta out of the playoffs.
The Attack's top-dollar lease at the Omni proved to be the club's undoing. New owners moved the team to Kansas City just prior to the 1991-92 NPSL season.
Former Attack owner Ron Terwilliger flirted with purchasing the Atlanta Braves in the mid-2000's. He later purchased the Atlanta Dream of the Women's National Basketball Association and operated that team from 2007 until 2009.
Atlanta Attack Video
This grainy 3-minute clip of the Attack hosting the Milwaukee Wave at the Omni in 1990 is the only video footage of the club available online.
Links
National Professional Soccer League Media Guides
National Professional Soccer League Programs
##