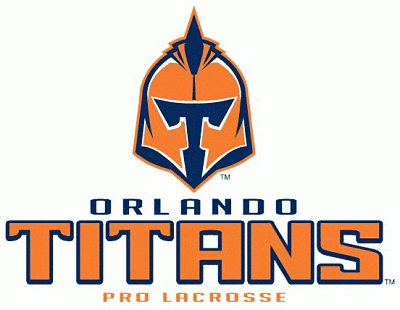 National Lacrosse League (2010)
Born: August 11, 2009 – The New York Titans relocate to Orlando.
Folded: August 2010.
Arena: Amway Arena (13,680)
Team Colors: Navy & Orange
Owner: Gary Rosenbach
Champions Cup Championships: None
The Orlando Titans were brief visitors to the Central Florida pro sports scene, managing only a single season at Amway Arena in the winter of 2010.  The franchise was founded by hedge fund manager Gary Rosenbach as the New York Titans in 2006. The Titans spent three seasons in New York and New Jersey before shifting to Orlando in August 2009.
The Titans were a successful team on the carpet.  The club made it to the National Lacrosse League championship game in 2009 during its final season in New York.  In Orlando, the Titans won the East Division with an 11-5 record and advanced to the Champions Cup semi-finals, where they lost to the Toronto Rock. Casey Powell was named the NLL's 2010 Most Valuable Player and Matt Vinc earned 2010 Goaltender-of-the-Year honors.
Off the field, the franchise bled red ink in both New York and Orlando.  Rosenbach bought the expansion rights for $3M in 2006 at the peak of the National Lacrosse League's franchise valuation bubble.  Shortly before the Titans shifted from New York to Orlando in the summer of 2009, Rosenbach resigned from Galleon Group, the $7B hedge fund that he co-founded in 1997.  In October of that year, Galleon exploded in spectacular fashion. Prosecutors arrested Rosenbach's former partner and co-founder Raj Rajaratnam for insider trading, along with several other Galleon employees. Rajaratnam was eventually sentenced to 11 years in prison in one of the rare Wall Street criminal prosecutions of the Great Recession era.  Rosenbach never faced charges.
Shortly after the 2010 season ended, Rosenbach either withdrew or substantially reduced his support for the Titans, throwing the team's future into question.  In August 2010, the NLL confirmed that the Titans would sit out the 2011 season in an attempt to re-organize financially.  Rosenbach formally put the team up for sale for $1.4M a week later, which was less than half what he paid for the expansion rights four years earlier. There were no takers and the Titans were effectively out of business at that point.
Links
National Lacrosse League Media Guides
National Lacrosse League Programs
##