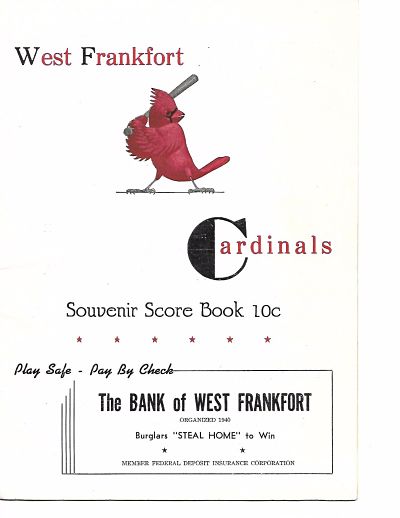 Illinois State League (1947-1948)
Mississippi-Ohio Valley League (1949-1950)
Born: 1947
Died: December 1950
Stadium: Memorial Stadium
Team Colors:
Owners: Pete Mondino, Charlie Jacobs and Tony Finazzo
Illinois State League Champions: 1948
Mississippi-Ohio Valley League Champions: None
The West Frankfort Cardinals were a short-lived Class D farm club of the St. Louis Cardinals in the immediate post-WWII years. The team played in the tiny coal mining city of West Frankfort, Illinois. Team founder Pete Mondino was a former catcher who played nine minor league seasons in the 20's and 30's without making the Majors. He was retired from baseball and operating a pool hall in West Frankfort when he founded the Cardinals in 1947.
Two notable players played for West Frankfort during the Cardinals' short run. Rip Repulski patrolled the Memorial Stadium outfield as an 18-year old Cardinals prospect in 1947. Repulski later earned a trip to the National League All-Star Game with St. Louis in 1956. A 17-year old Earl Weaver spent his entire first pro season in West Frankfort in 1948.
With Weaver at second base, West Frankfort won the Illinois State League championship in 1948 via a three-game sweep of the Mattoon (IL) Indians. Following the 1948 campaign, the Illinois State League changed its name to the Mississippi-Ohio Valley League.
The West Frankfort Cardinals folded during the winter of 1950. The following year, the New Orient Coal Mine disaster killed 119 men and devastated the small community. The city leveled Memorial Stadium in 1956. Pro baseball never returned to West Frankfort.
Toby Brooks has an outstanding book called Season of Change and accompanying website about the history of the West Frankfort Cardinals.
Links
Mississippi-Ohio Valley League Programs
Toby Brooks' WestFrankfortCardinals.com site
##